Dog Just Can't Stop Smiling Ever Since She Found A Home
Kinta the Shiba Inu sure has a lot to smile about these days. But that wasn't always the case.
In the summer of August 2010, Kinta was found lying out in the sun, on top of a car.
Michelle Proctor, a 32-year-old ER nurse, thought the cream-colored dog on top of her neighbor's car was actually a large cat at first, but upon closer inspection, confirmed that she was, in fact, a canine. It's unknown how Kinta, who was somewhere between 12 and 18 months old, ended up on top of the car in Owasso, Oklahoma, to begin with.
Kinta at around 18 months old. Michelle Proctor
Kinta at around 18 months old.

| Michelle Proctor
"She looked like she hadn't eaten in a few days, so I brought her food and water," Proctor told The Dodo.
A trip to the vet revealed that the dog wasn't microchipped. Proctor said she worked her way around town, trying to see if anyone knew if this dog had a family. She even posted an ad on a local lost-and-found pets page on Facebook, but no one stepped forward to claim Kinta.
Proctor learned that if Kinta had remained in animal control's care, she only had a certain number of days to be adopted before she would have been euthanized.
"I'm not really a gambling girl," Proctor said. "We had high hopes of returning her to her owner, but after two months we were certain that she was probably a reject from a puppy mill since she was not yet spayed and had a genetic malformation - she has no nipples."
That was how Kinta became officially adopted into the family.
Michelle Proctor
Michelle Proctor
Kinta is now around 7 to 8 years old and loves nothing more than making her forever family laugh with her funny little smiles (and winks).
Michelle Proctor
Michelle Proctor
According to Proctor, Kinta's infamous squinty smile is definitely a learned quirk.
Michelle Proctor
Michelle Proctor
"She would make that face when she was guilty of eating our food off the table," she said.
"But we would start hugging her because it was so cute," she added "So over time she realized that making that face meant we would start hugging and loving on her. She's a professional at it ... now she mostly does it when she's happy to see us."
Michelle Proctor
Michelle Proctor
Other things that Kinta loves include attention, cheese, snuggling, going to grandma's house and being the unofficial watchdog of her neighborhood. Her dislikes include school buses and the guys who mow the lawn.
Michelle Proctor
Michelle Proctor
In addition to her parents, Kinta has quite the extensive furry family - there's her big sister, a cat named Honey, and three younger guinea pig sisters named Smore, Lemon and Noodles.
Last but not least, there's Kinta's big brother ...
Michelle Proctor
Michelle Proctor
... a Chihuahua named Kilo. The two make quite the dashing duo.
Michelle Proctor
Michelle Proctor
So what's coming up next in the life of Kinta (a.k.a. Squinta)?
"She has a human sibling on the way, so she has some pretty important guard dog duties to brush up on," Proctor said.
We have no doubt she'll knock those duties right out of the ballpark.
Michelle Proctor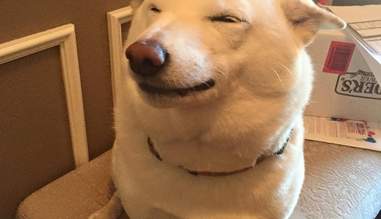 Michelle Proctor
You can follow Kinta's adventures on Facebook and Instagram. Want a cutie like Kinta in your life? Adopt a pet in need and become her reason for smiling every day. Get started at Adopt-a-Pet.com.