Anxious Parrot Who Plucked Out His Feathers Now LOVES To Dance
King O, a Ducorp's cockatoo, lost the one person who meant everything to him.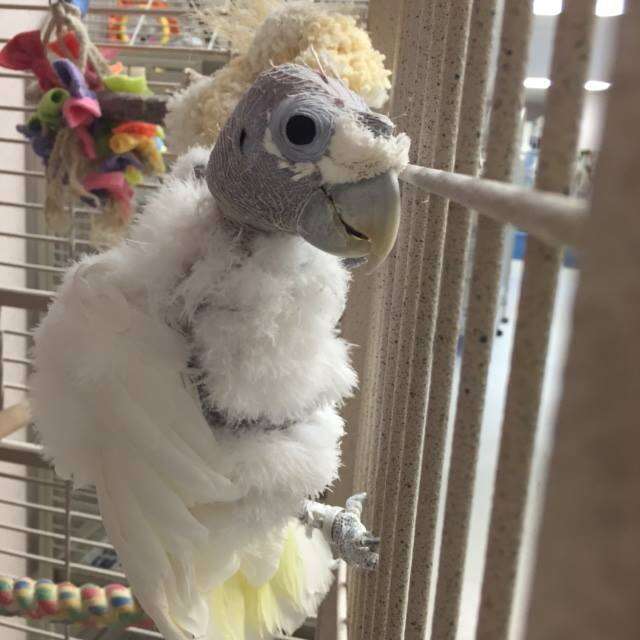 But thanks to a sanctuary that took a chance on him, it became quickly apparent that all King O needed to heal was singing - a lot of singing.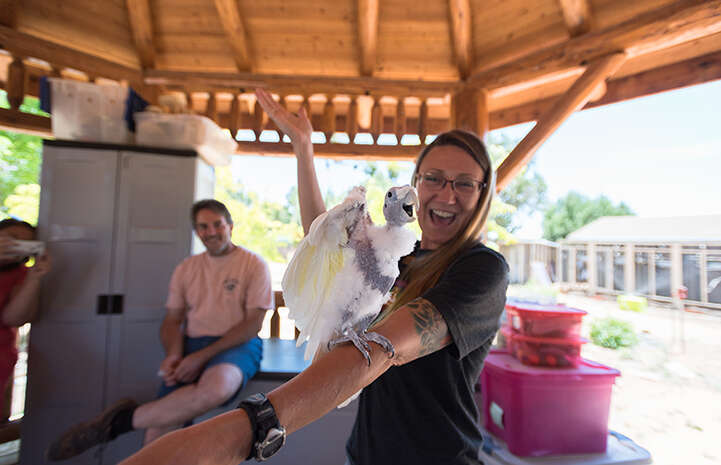 "O's first person was somebody he absolutely adored," Jacqueline Johnson, manager of Best Friends Animal Society's Parrot Garden in Kanab, Utah, told The Dodo. "She only had him for about three years before she died. Then her nephew thought he was a cool-looking bird, so he took him home."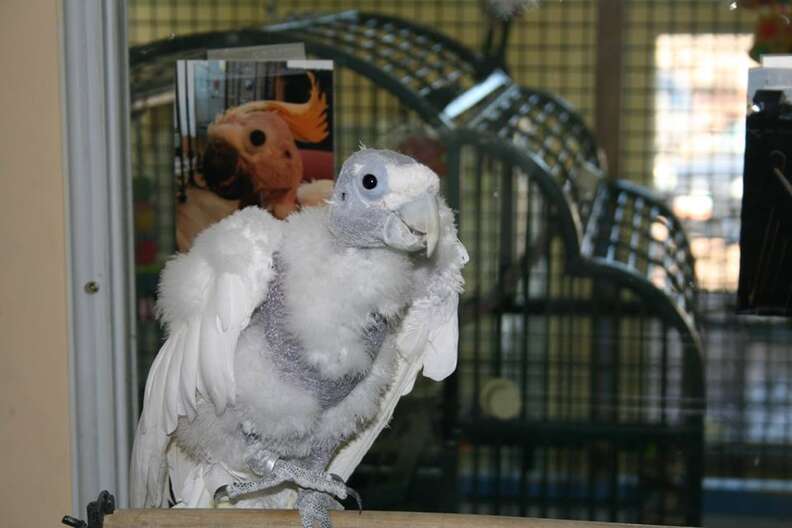 However, what the nephew didn't realize was just how much effort taking care of a parrot entailed. Johnson believes that his lack of knowledge was what ultimately lead to King O finding himself in a "horrific situation for a bird."
He was locked in a room, trapped in a cage with no toys and no human interactions.
Fear, stress, frustration and grief over the loss of his previous owner ultimately drove King O to pluck out his own feathers, a not uncommon sign of sign of captive stress in birds.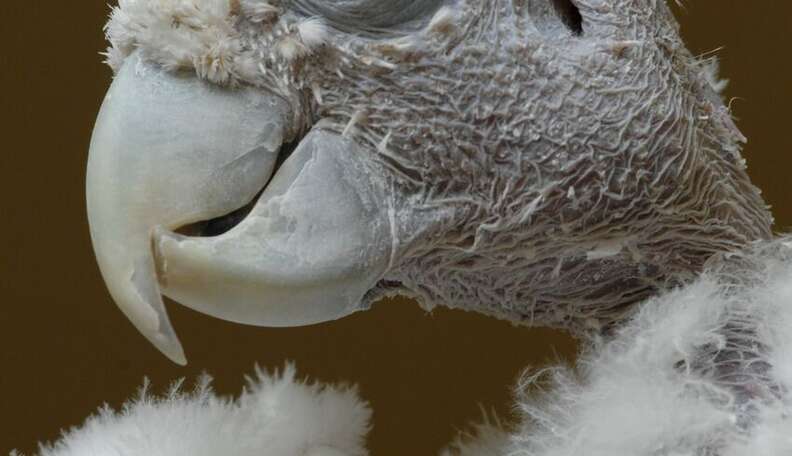 "After that, he went to live with a young lady and he really liked her as well, and she was good with him," Johnson said. "But then she lost her home, so O went to go live with friends of hers, an attorney and his wife."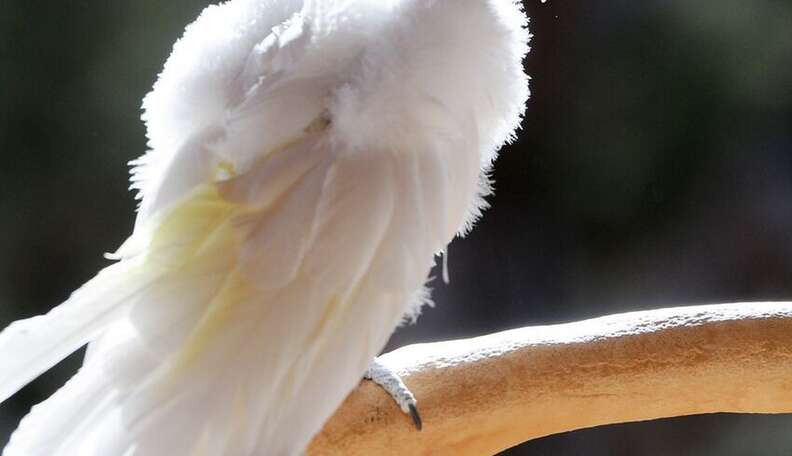 In his fourth home, King O was initially named Ophelia, as his owners weren't aware of his gender. King O lived with the couple for years - but he was still affected by his past, and displayed behavioral issues that left the couple concerned. The attorney, who lived in New Jersey, reached out to an online parrot support group that Johnson was a member of to seek advice.
After watching a video of King O sent by the attorney, where the parrot behaved in a disturbingly aggressive manner, Parrot Garden offered to take him in - and so, in May 2010, King O made the trip from New Jersey to Utah.
"My staffers said he talked to everybody on the airplane the entire trip," Johnson said. "I could hear him talking as he got out of the car. We just knew we had somebody very special, very quickly."
The staff at Parrot Garden came to learn all about the parrot and his needs. As it turns out, King O's an extreme extrovert, in need of constant stimulation. Johnson said that he's unlike most parrots, who typically need time to build up relationships with people - King O adores meeting new people.
"He wants to be handled by new people, he's never bit a new person," Johnson said. "He loves to be the star of the show."
King O, who is now 16 years old, prefers to reserve his bad behavior for the people he already knows, Johnson said.
"We determined he needed to be somewhere where he has a constant stream of new people to meet," she added. "He does not do well in a cage, he doesn't like other birds and he just needs that constant stimulation ... Very few homes in the world could meet his needs."
Those needs included frequent singing and dance parties with Parrot Garden's staffers - a special treat that kept the quirky bird perfectly happy. King O's personality shone under the care of those who understood him best, and despite his partially naked look, King O was very good at charming every single person he met.
Finally, after six years of dancing his way into many people's hearts - and, at times, destroying their computer keyboards - King O managed to woo one person who was the perfect match to be his new parent.
He went to his new forever home in early June.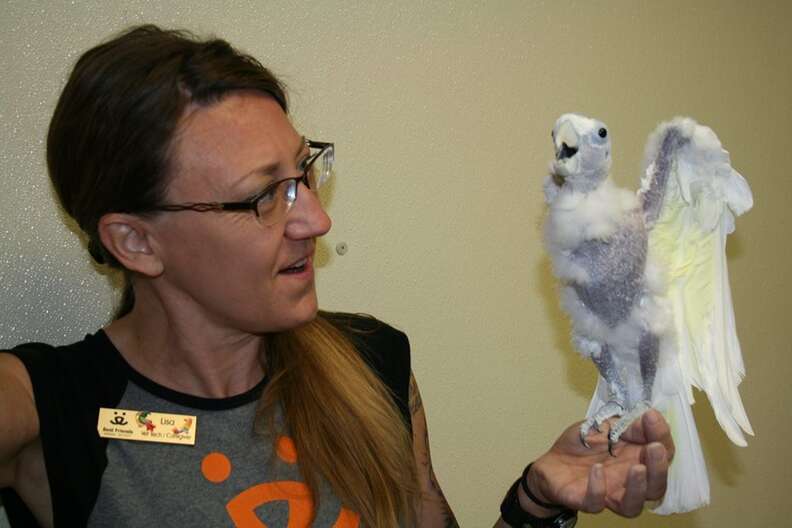 His new owner is an experienced bird owner who also runs a grade-school education program and a private reserve, where he'll be exposed to new people nonstop.
But before he left, Parrot Garden threw one last celebration for the special bird, who went from screaming whenever he was placed in a cage to becoming a playful, confident parrot known for saying "uh-oh" whenever he saw his veterinarian.
The party featured all the staffers who had cared for him over the years and, of course, lots of singing and dancing. In the end, King O's magnetism and love for life prevailed in spite of everything he had endured.
"We never had anyone come to Parrot Garden and be like, 'Oh that poor bird,'" Johnson said, referencing his appearance. "Because he would just pull them in so much."
Watch more about King O, his antics and how he found a new home below: