Riding Along With Rescuers Taking A Puppy 900 Miles To Her Forever Home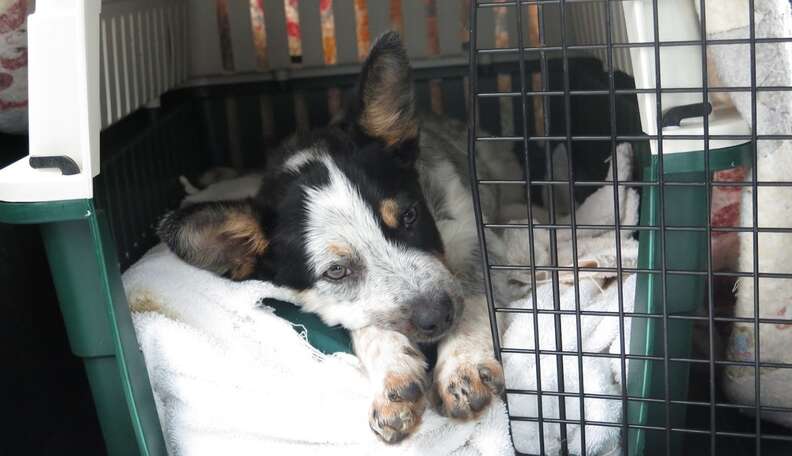 Athena slept in a dozen cars along the 900 miles from South Carolina to New Hampshire. She snoozed in Subarus, Mazdas and Jeeps, spending a stretch of gray highway in Connecticut bundled in my lap, as she traveled to the home she'd never seen.
Jessica Wasner was browsing Petfinder several weeks prior, when she stumbled upon Athena. "I fell in love," she said. There was just one hitch - Wasner was half a country away, in Derry, New Hampshire.
Enter the volunteers. For two days, the 10-week-old puppy - a charming mix of cattle dog, Labrador and who knows what else - was the precious cargo of Kindred Hearts Transport Connection. The nonprofit rescue group is, at its core, a fleet of volunteer drivers, some of whom relayed Athena up the East Coast in early February.
Like the Olympic torch, Athena was lovingly passed from driver to driver. Unlike a torch, she had a few bouts of carsickness and peed a bit on my jeans. Drivers bring collars and leashes, and those who have been on a few rodeos come equipped with blue-lined piddle pads, too.
"I've been pooped on, puked on and peed on," Nick Waldow told me. Earlier, his wife Teresa had quipped that you can tell volunteer drivers by their clothes - specifically, the fine layer of dog hairs on them. (You can also tell the Waldows love dogs from the pickle jar filled with treats tucked in their passenger door.)
Teresa Waldow and Athena in Bridgeport, Connecticut, just before a hand-off. Credit: Ben Guarino
Kindred Hearts' Facebook page claims 23,000 members, but few are as dedicated as the Waldows, residents of Poughkeepsie, New York, who chauffeured Athena from New Jersey to Connecticut. They've been driving dogs across eastern America, more or less every weekend, for the past four years. That's too many pooches to count, Nick said. "Maybe 200 or 300 dogs?"
Sherry Mastrogiacomo, Kindred Hearts' founder, described driving dogs as something that "can become an addiction." It's a way for dog lovers to express their affection in chunks of donated time - gas and mileage are also tax-exempt, both Mastrogiacomo and the Waldows pointed out - particularly if fostering or adopting isn't an option.
Each weekend, Mastrogiacomo said, between 10 and 20 animals embark on Kindred Hearts' cross-country bucket-brigades, or "runs" in the lingo of volunteer dog drivers. Cats, dogs and Vietnamese pot-bellied pigs have all benefited from a Kindred Hearts run. A chain of drivers might deliver rescue animals, like Athena, to new homes, or reunite lost animals with owners who live hundreds of miles of away. Dogs, particularly pit bulls, are often driven toward the Northeast, escaping euthanasia at kill shelters in midwestern and southern states.
"Miami-Dade shelters are really bad," Mastrogiacomo said. "Pit bulls get killed left and right down there."
Social media, not just tax-exempt gasoline, fuels these drives. Volunteers find their way to Kindred Hearts via Facebook, Instagram or Pinterest (Craigslist, deemed too risky, was abandoned). The many kindred spirits of Kindred Hearts include: Dogs on Deployment, offering board for deployed soldiers' pooches; Pilots N Paws, a group of volunteer pilots who shuttle rescue animals; and schools of transport groups, a few dedicated to a specific breed, with names like Pitstop Pit Bull Rescue or Save a Lab. "We're always looking," Mastrogiacomo said. "We need an infinite number of volunteers."
Athena. Credit: Jessica Wasner.
Because there's no central database of organizations that transport animals, estimating how many dogs are relocated on a national level is impossible, according to Ashley Bryan of the American Society for the Prevention of Cruelty to Animals. The ASPCA has its own relocation program, which in 2013 helped move more than 33,000 animals to relieve overcrowded shelters. But the vast majority of these dogs are sent to new rescue centers, rather than to permanent homes.
The ASPCA supports relocation, given certain conditions - that puppies are at least eight weeks old, for instance, and females in heat don't travel with male dogs. Kindred Hearts also has strict guidelines, such as always keeping a dog tethered or in a crate.
This reporter and Athena near a Dunkin' Donuts. Credit: Ben Guarino
Transport groups have good reason to be cautious. As the Waldows waited in a Dunkin' Donuts parking lot to hand off Athena, a black Jeep - not the car the Waldows were expecting - pulled up. The Waldows hesitated. "You just never know," Nick said. Dogs have been stolen from transporters at gunpoint. And, as Kindred Hearts notes on its website, "drivers have been stalked and attacked because the stalker knew their meet location." Run schedules are no longer publicly posted, and pup hand-offs take place in parking lots, rest stops and other public places.
Athena plays in the New Hampshire snow. Credit: Jessica Wasner.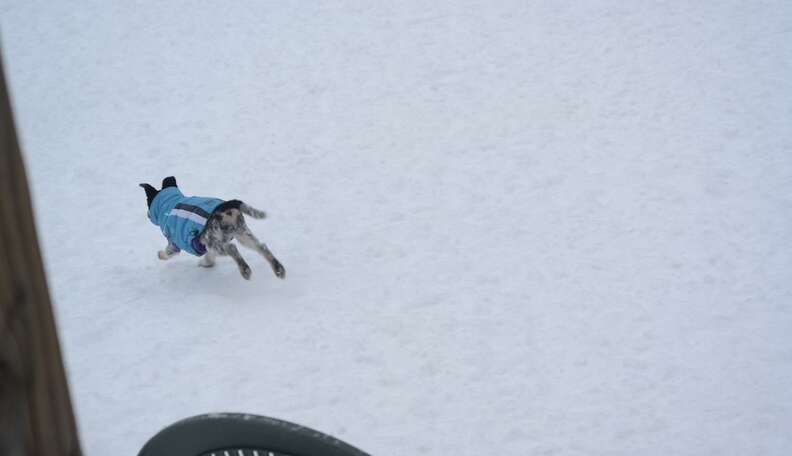 Athena's run went off without a hitch. Wasner was, understandably, nervous. "I had so much trouble sleeping that night," she said.
After two days on the road, Athena arrived safely at her new home. She quickly became part of the family. "She's a very active, very playful and very curious dog," said Wasner, who now volunteers with Kindred Hearts.
"I appreciate everything they've done," she said.
Resting with new pals. Credit: Jessica Wasner.
And here's Athena at home, playing with her new doggy kin: