While on vacation at the lavish Iniala Beach House near Phuket this week, the Kardashians had the opportunity to meet, touch and even ride an elephant, which is touted as one of the resort's many amenities. Naturally, reigning selfie queen Kim Kardashian tried to capture a shot of herself alongside the captive wildlife, only to find their interaction getting a little too personal -- the curious baby elephant reached out to touch Kardashian's hair, sending the celebrity running away.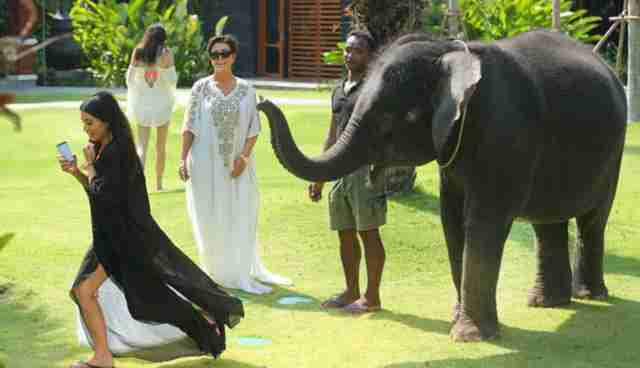 Once Kardashian moved to the sidelines, she continued to take pictures of the elephant while her mother, Kris Jenner, looked on. At first, it's unclear why the elephant is present in the first place, but additional photos posted by Kardashian's half-sister, Kylie Jenner, show what was really going on: baby elephant rides.
According to Joyce Poole, an ethologist and co-founder of the conservation group Elephant Voices, the incident with the Kardashian-Jenners and baby elephant was "ridiculous." "An elephant has an extraordinary sense of smell and uses its trunk to explore its world," Poole said, explaining the animal's interest in Kardashian's hair. Additionally, Poole explained her organization's stance on elephant safaris and so-called "eco-tourism," which Elephant Voices opposes:
These elephants have been violently abducted from their families and often brutally trained for this purpose. To persuade an elephant to work - including to carry tourists - a mahout must ensure that it follows instructions at all times. This, by necessity, means breaking down an elephant's independent will. To do so, calves are chained, beaten, deprived of social interaction.
Other animal groups, like the Elephant Nature Park in Chiang Mai, Thailand, also oppose elephant-riding on similar grounds, calling training for the activity "torturous." But the park also offers an example of "eco-tourism" that doesn't take elephants out of their habitat or bring them to a luxury hotel. Visitors can take trips to the Elephant Nature Park and see the animals, engaging in activities like feeding the elephants fresh fruit, helping to bathe them in a river, going on walks or simply watching them play together.
And, if a tourist were so inclined, he or she could also take a selfie with one of the elephants.
For more information about the Elephant Nature Park and its founder, Lek Chailert (known as "the Elephant Whisperer"), check out the park's website or watch the video below: