This is Kiki, and these are her eight beautiful four-week-old puppies. The little family is currently in the care of IFAW Project Manager Dr. Erika Flores, in Playa del Carmen, Mexico.
Kiki was found in a neighborhood that's part of Playa del Carmen called Ejido, an area where local community members live, rather than the areas commonly seen by tourists.
In Ejido, roaming dogs are very much a part of the neighborhood.
People enjoy their presence and tend to watch out for them and provide care when they can.
For Kiki though, it was a bit of a different story.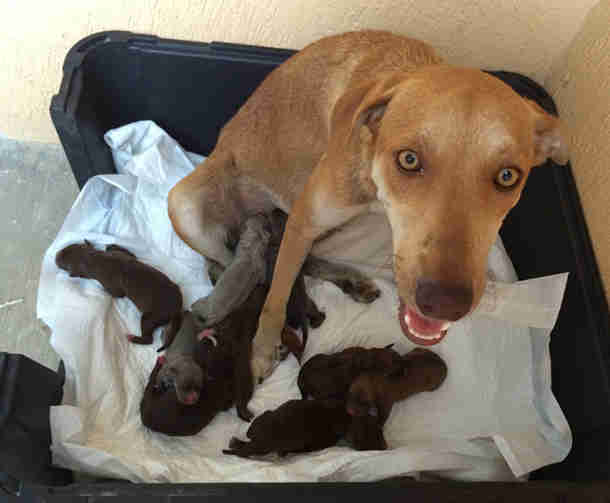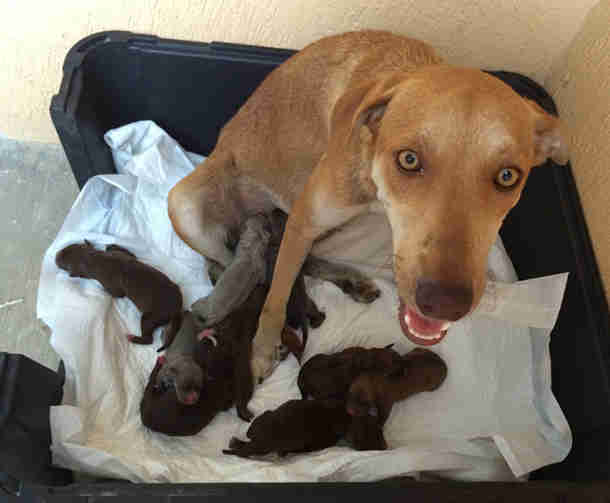 She had been being cared for by a young girl named Diana, who lived in the same building where Kiki's previous owner had abandoned her. Despite Diana's efforts to feed and care for the young dog, Kiki was unsterilized and living on the street, and so very quickly became pregnant.
As the weeks progressed and Kiki came closer to having her puppies, Diana worried about their safety since she was unable to provide shelter for the little family. Through Facebook, she contacted a local group called Mascotas Playenses (Playa Pets) and through this group, Dr. Erika Flores got word of Kiki and her soon to be born puppies.
Erika quickly came to their aid.
On Saturday, February 7th, Kiki gave birth to 10 puppies. That very morning, Dr. Flores was able to transport the puppies to the sanctuary of her home, where she would help Kiki to raise them.
Mother dogs need a lot of nutrition to produce the milk needed to feed their newborns. Unfortunately, Kiki was not receiving high-quality food, and she lacked enough milk for all ten of her puppies.
One puppy died before Dr. Flores was even able to bring them home, and another was very weak and died shortly thereafter. Dogs that are abandoned often do not have access to proper nutrition and care. The result for females who become pregnant can be dire, as they are unable to get enough nutrition to adequately feed all their babies.
Once Dr. Flores brought the puppies home, she was able to relieve Kiki of some of her motherly burden. The sweet momma received vitamins, including extra calcium, and a parasite treatment, since Kiki was covered in fleas, that wouldn't hurt the puppies.
Dr. Flores also had to carefully tube feed the babies so they could get the nutrition they needed, and of course, she made sure mom got as much food and water as she wanted.
Nursing mother dogs should have access to food at all times, or at least be offered food five times a day. At this stage, she needed to eat around three times the amount she would normally, and drink plenty of water. Luckily, with plenty of nutritious food and TLC, Kiki was able to start nursing her puppies again.
With the watchful eye of Dr. Flores on them and a healthy and happy mom, the eight remaining pups began growing and getting stronger.
There are five females and three males of all different colors; a few are chocolate, one is cinnamon just like mom, some are brownish with grey, and a few are various shades of gray. Their coloring is particularly beautiful and quite rare for local dogs around Playa.
Though these puppies resulted from an unfortunate situation of abandonment and a lack of adequate care, their subsequent success in the hands of local people wishing to help them has been inspiring.
Kiki and the pups will remain in Dr. Flores' care until they are big enough to be adopted, and we'll be posting regular updates so the fans of Kiki and her lovely babies can follow them too.
- EM