Kids Shed Tears Of Joy After Being Reunited With Their Missing Cat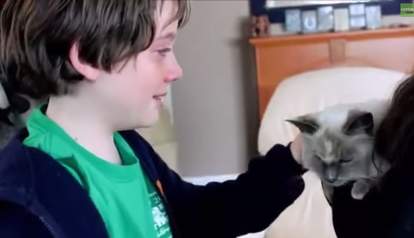 Few bonds are more powerful than those that exist between children and animals - and there's nothing quite as heartbreaking as a missing pet. Fortunately for these youngsters, who had lost their black-and-white cat Madison weeks earlier, the pet is now safely back where she belongs.
The kids' mother, Sheryl M., tells AOL that the 13-year-old cat had disappeared two months ago without a trace. But as luck would have it, she recently spotted Madison at a nearby gas station after dropping her sons off at school.
"Excited, I called my daughter (18 years old) to tell her the good news. She met me at the door with tears in her eyes. I told her I will be back with the boys and I wanted to surprise them and to wait with Maddie in her room," she says. "And the video is them seeing her for the first time in months!"
According the American Academy of Child & Adolescent Psychiatry (AACAP), pets can actually improve kids' lives in profound and lasting ways, boosting their self-esteem and self-confidence.
"Positive relationships with pets can aid in the development of trusting relationships with others," writes the AACAP. "A good relationship with a pet can also help in developing non-verbal communication, compassion, and empathy."
Naturally, when a pet goes missing it can feel comparable to the loss of a human family member, especially among young children - but thankfully, sometimes there are happy endings.