Monkeys Shocked And Overjoyed When Their Kidnapped Friend Returns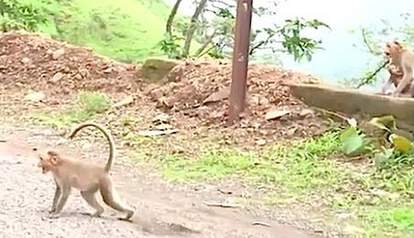 A monkey brutally kidnapped from her family and friends is finally back where she belongs.
Shocking footage showing a group of men dragging the monkey into the back of a car went viral last week.
Luckily, animal advocates saw the video and took fast action. After PETA's India chapter reported the incident to wildlife authorities, the men who kidnapped the monkey were caught and brought before the law.
The little monkey was lucky to have escaped what could have been the bleakest of lives - monkeys stolen from the wild are often sold into the illegal wildlife trade to become brutally trained street performers or caged exotic pets.
The displaced and traumatized monkey was rehabilitated after the harrowing incident, but she still needed to be reunited with her family.
At last, that day came. And cameras were rolling as the monkey was transported via car to the spot where she'd been abducted.
PETA
At just the right bend in a winding mountain road, rescue workers stopped and brought the cage out to release her.
PETA
The amazement and joy of her family is palpable, as she emerges from her cage.
PETA
We're so relieved this little monkey is finally back where she belongs.
PETA