Sometimes, a happy ending isn't an ending at all.
Ever since Knox was rescued from a shelter in Baltimore, Maryland, in 2014, it's been more like one happy beginning after another.
In October, the dog was stolen from his new family's home in Baltimore, Maryland - only to be returned after the search for him went viral.
The reunion between Knox and his owners, Kaitlynn Marie Thomas and Joelle Taylor, seemed the happiest ever after of all.
But for this family and their 4-year-old dog, it was just another beginning.
On New Year's Day, a stranger called Thomas.
"It was a guy saying he was sorry hearing about my dog being stolen," Thomas recalls. "He must not be active on social media because he didn't know Knox had come home."
It turned out, the man's dog had an accidental litter of puppies. He was wondering if maybe Thomas and Taylor might like to have one to help fill the Knox-shaped hole in her heart.
Thomas, who's the foster coordinator at the Maryland SPCA, was understandably skeptical. She asked if they could visit the puppies.
When the couple arrived, she found them all being well cared for - and one puppy, in particular, giving her those, well, eyes.
"One of them just called to me," Thomas says. "She is a little bit funny and has a huge overbite and is the tiniest puppy.
"She was too young to be separated from the litter but the mom wasn't taking care of them anymore," Thomas adds.
"It wasn't ideal. It was a situation where he just wanted to find a good place that would take care of them."
And ... and ... puppy.
"We told him that it is not ideal for puppies to be separated this young," she recalls. "If it was a bad situation, I would have called animal control. But he was a really nice guy.
And ... and ... PUPPY.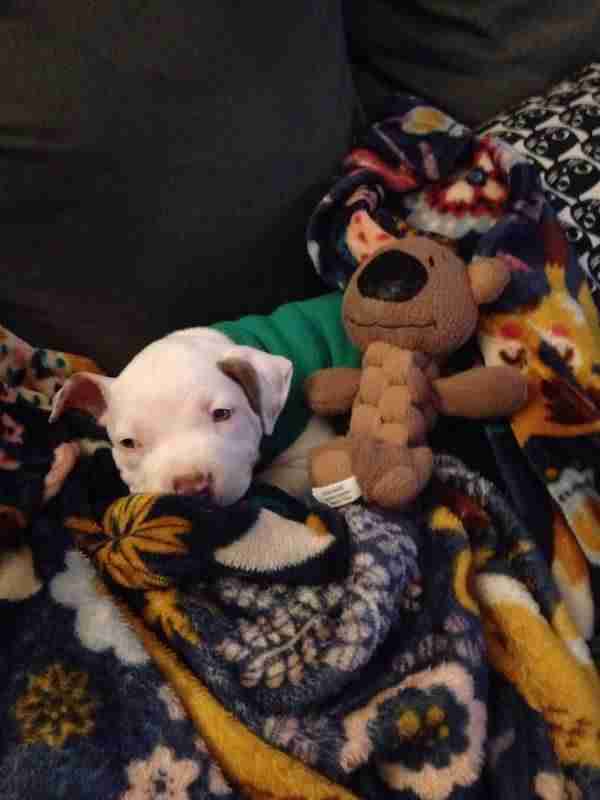 Besides, at home, there was a dog named Knox just dying to spread the happy endings around.
And sure enough, as soon as Noah the puppy arrived, Knox was eager to teach her everything he knew about the good life.
"She is so tiny, he was nervous," Thomas says. "I think he was scared he would get too close to her and break her. He was cautious and gentle."
But Noah is already proving a keen student.
"She just follows him around," Thomas notes. "I let her sleep with me. She will curl up with him until he moves and then she'll curl up with me in my neck."
A happy beginning, indeed.