The Ugly Truth Behind Khloe Kardashian's Tiger Cub Selfie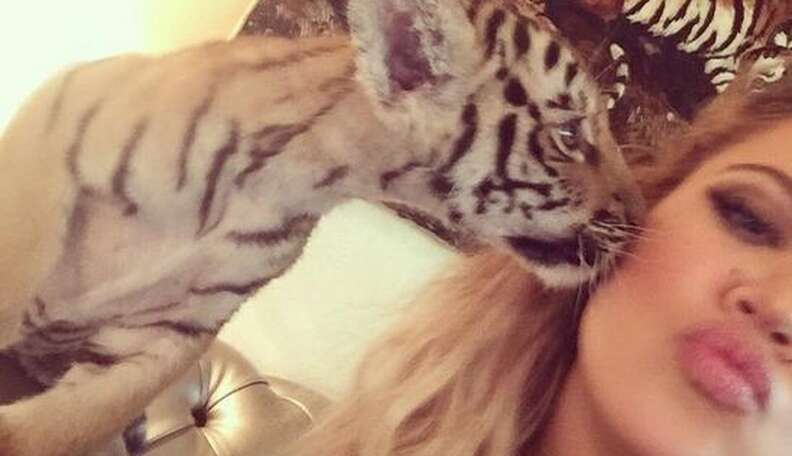 <p><a href="https://instagram.com/p/3MZLtkBRip/" target="_blank">Instagram/khloekardashian</a></p>
<p><a href="https://instagram.com/p/3MZLtkBRip/" target="_blank">Instagram/khloekardashian</a></p>
Khloe Kardashian couldn't be more clueless in the Instagram selfie she took posing with a tiger cub.
"Kisses," she wrote from Dubai, where she is attending a hair event.
Glamour shots like this are possible because tiger cubs are marred at a young age to make them safe to be around people, according to World Animal Protection. These innocent tiger cubs have their sharper teeth pulled from their jaws and their claws removed, which is very painful.
"While interacting with wild tigers may seem harmless, people posing with wildlife don't realize that a 'once in a lifetime' photo for them means a lifetime of misery for the animal," Silia Smith of World Animal Protection told The Dodo in a statement.
"We're disappointed to see yet another celebrity posing with a wild animal," Smith said. "Tiger cubs belong in the wild, with their mothers - not in captivity for use as entertainment or photo props,"
According to Smith, to be used for entertainment, wild tigers are cruelly poached from the wild as babies or bred in captivity. Sadly, many more tigers live in captivity today than in the wild - an estimated 5,000live in the U.S. alone, while, globally, only about 3,200 remain in the wild, where they belong.
This isn't the first time a celeb has angered animal lovers with ignorant Instagram pics. For more information on the truth about animals used in entertainment, read World Animal Protection's special report.