Now, rescuers are on the ground saving the last 16 animals surviving at the Khan Younis Zoo, in the war-torn Gaza strip, where animals have been largely without food or care for over a year.
Four Paws International has successfully visited the zoo twice in the last year on missions to bring the desperate animals food, water and veterinary care.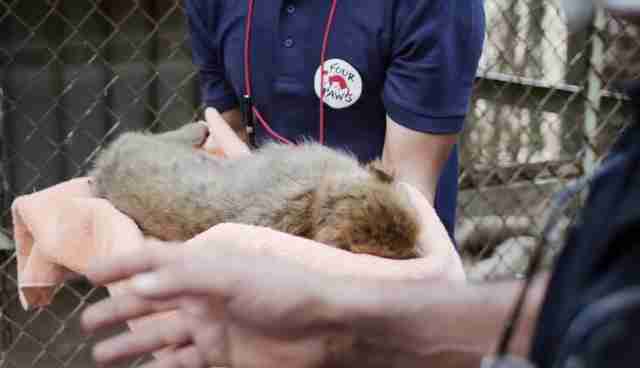 "After long negotiations, a daring rescue mission finally has the green light," Four Paws wrote in a press release. "Four Paws is finally going to be able to rescue the 16 animals from Khan Younis Zoo in the Gaza Strip and, not only transfer them to new homes, but close the so-called 'worst zoo in the world' for good!"
An international team traveled to the zoo to bring birds, monkeys, tortoises, porcupines, an emu and Gaza's last tiger, Laziz, to safety. Veterinarians prepared for emergency care on the ground.
Sadly, one animal - a baby deer - died just before rescuers arrived. "This sad news shows once more the importance of rescuing the animals NOW," Four Paws wrote.
Luckily, the 15 remaining animals are being rushed to safety now that the zoo is officially closing.
"The closure of the zoo means a new life for the tiger Laziz and the other animals, which up to now have had to waste their lives away in desolate cages, suffering from a lack of food and medical care," Dr. Amir Khalil, a veterinarian with Four Paws who is heading the Gaza mission, said.
Most of the animals will find sanctuary in Jordan's New Hope Center for rescued animals.
But Laziz has a longer journey ahead of him. The tiger will be transported to LIONSROCK, Four Paws' big cat sanctuary in South Africa, which is home to over 100 other big cats rescued from around the world.
His new home will include a swimming pond and over two acres of grassy fields and trees, Four Paws said.
"Laziz ... went into his transport crate without hesitation," Four Paws wrote on Tuesday. "He even seems to behave more calm in the crate now than he ever has in his desolate cage."