Heartbroken Filmmaker Shares Tender Moment With His Dying Dog
<p> <a href="https://www.facebook.com/YesThatKevinSmith/photos/a.77596326929.88348.6985046929/10152573595716930/?type=1&theater">Facebook/Kevin Smith</a> </p>
Film director Kevin Smith triggered an outpouring of well-wishes from fans and animal lovers on Wednesday after sharing a heartbreaking photo of what would be one of his last tender moments with his dying dog.
Smith, whose films include "Clerks" and "Chasing Amy," wrote on Facebook that Mulder had been in poor health for the last year, but as the end neared it was still so painful.
"They never tell you when you get a dog, but there is a price to pay for being the recipient of 17 years of unconditional love, loyalty and companionship: they take a huge chunk of your heart with them when they go," Smith wrote.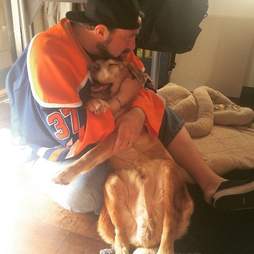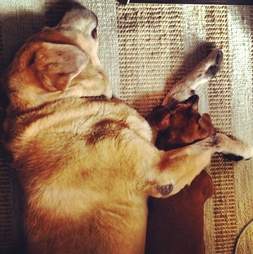 More than 50,000 people have commented on Smith's photo on Facebook, most of whom offer condolences for his loss. Perhaps the most touching words come from Smith himself in a final tribute to his beloved pet:
"It took a dog like you to make me a better person."