This sweet cat has been through hell - and now he needs to find a loving home.
Kenny and his sister Nina lived in a Brooklyn house with their owner and his family. But tragedy struck in October, 2013, when a devastating fire ripped through their home. Four of the family members escaped, but the cats' owner ran back into the building to try and save his elderly mother. Neither person made it out.
The surviving family members moved on, leaving the cats behind. For the next ten months, Kenny and Nina lived in the ruins of their former house. A kindly neighbor fed them, and each day they would slip out through the bars of the basement door to eat and then run back into the burned-out structure where their beloved owner had died.
Last June, Lauren Dauro, an adoption rep for the New York-based rescue group KittyKind, heard about the pair and set out to rescue them. When she arrived at the padlocked ruins of the home, she was shocked.
"It was completely burned out," Dauro told The Dodo. "I mean, exposed wire, water on the floor. And that's where the cats were living."
It was apparent the feline pair couldn't stay in the abandoned home forever. "It was really a dire situation where they had to get out of there," Dauro said. "Not to mention that the house itself was really deplorable ... It was a very sad thing."
It took two weeks for rescuers to capture the pair. But, unfortunately, Kenny's streak of bad luck wasn't quite over.
Kenny and Nina went to live with a KittyKind fosterer, who hoped to adopt them both. But rescuers soon realized that Nina was bullying Kenny, who's FIV-positive, and that they'd be better off separated. Nina was adopted as a single, while Kenny went back into the adoption network.
His second foster-to-adopt home was worse. KittyKind discovered that the woman who took him in was planning to use him to replace her existing cat, whom she wanted to get rid of. Dauro said they quickly took Kenny back; they later found out that the woman had, in fact, returned her first cat to the Humane Society.
Kenny spent several months in a Petco adoption center, but the sensitive cat's spirits were waning. "Kenny was getting too depressed being at the store," Dauro explained. She found a friend who could foster him - Kenny has moved and is settling in nicely.
But it's not a forever home, and rescuers are more determined than ever to find this loving cat the family he deserves.
"I think that he's just had a hard go," Dauro said. "He's been shuffled about. And it's taking its toll on him at this point."
Dauro visits him every week, and when she arrives he runs up the door to greet her and happily meows. At 9 years old, he's very playful but "not bouncing off the walls," and loves to cuddle with her, she said.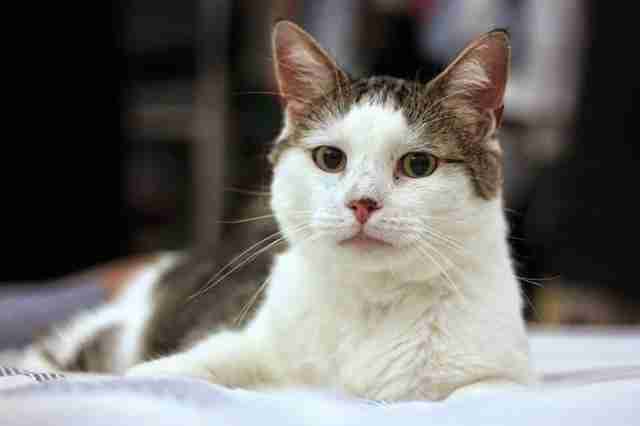 Dauro said that part of the problem with finding Kenny a home is that people misunderstand what FIV means. "People are kind of afraid of FIV status and don't understand that the cat is, in essence, a healthy cat," Dauro explained, noting that with a proper diet Kenny can live a long, healthy, normal life.
And though it can take some time to earn his trust, Dauro said, his sweet personality makes it worth it.
"Kenny is just a very lovely, sweet boy," she added.
If you're interested in providing Kenny with a forever home, you can find out more information here.