She Was Dumped At The Shelter The Same Day She Gave Birth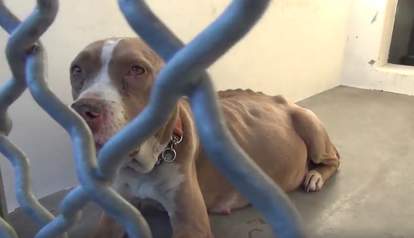 <p><a href="http://www.2ndchancesrescuenorco.com/" target="_blank">2nd Chances Rescue</a></p>
If Kate's biological clock could tell the time, it might have read one minute past Doomsday.
When she washed up at a California animal shelter last week, the 3-year-old pit bull was desperately sick and starved half to death.
But her clock ticked thunderously for another, even more pressing reason.
Somewhere in those bones, there was a litter of love dying to get out.
Kate had been dumped, pregnant, at the Carson Animal Care Center because her family didn't have the time.
"The family didn't want to have puppies at their house," Jennifer Williams, founder of 2nd Chances Rescue, tells The Dodo. "That's the fact."
But this was not the way Kate's world would end.
The rescue group, based in Norco, California, heard about Kate's arrival that same evening. Volunteers with 2nd Chances arrived at the Carson shelter the next morning, an hour before it opened.
But the night before, Kate had given birth to 10 puppies.
The rescue whisked the entire family away to a foster family.
"We got there as early as we could and got them out," Williams says. "We didn't want them to spend any more time then they had to there."
Their mother, at least 20 pounds underweight, still needs all the nourishment she can get.
"It's a struggle to make sure she has enough milk and that she's healthy also," Williams says.
And her puppies?
"They were born in a shelter environment," Williams explains. "Their immune systems are very fragile."
Kate's entire family will stay with her foster family until they're strong enough to look for a forever home.
But for now, Kate's clock has been reset. Now, she has all the time in the world to get healthy again - and to wait for the love she's been missing.
Think you can help? Consider making a donation to help dogs like Kate and her babies by visiting 2nd Chances here. And, when Kate and her puppies are ready for a forever home, think about making it your own.