This Chicken Was About To Be Sacrificed On The Streets Of NYC
He and his friend were part of a slaughter that happens every year.
On a sunny, warm day last week, a couple of chickens stepped into a grassy yard and basked in the sun.
The feces that stained their feathers had been washed away. Their little feet touched the ground like it was the first time feeling grass beneath them.
Then they curled up under Rebecca Moore, one of several people who saved them from a brutal fate. And they purred.
"Chickens do purr," Moore tells The Dodo. "And these little ones are adjusting to being loved and cared about."
No, this isn't chicken heaven. It's a small cottage in Woodstock, New York, where Moore is taking care of a couple of chickens named Buckles and Pancakes after a network of animal lovers managed to slip them away from a street-side slaughter.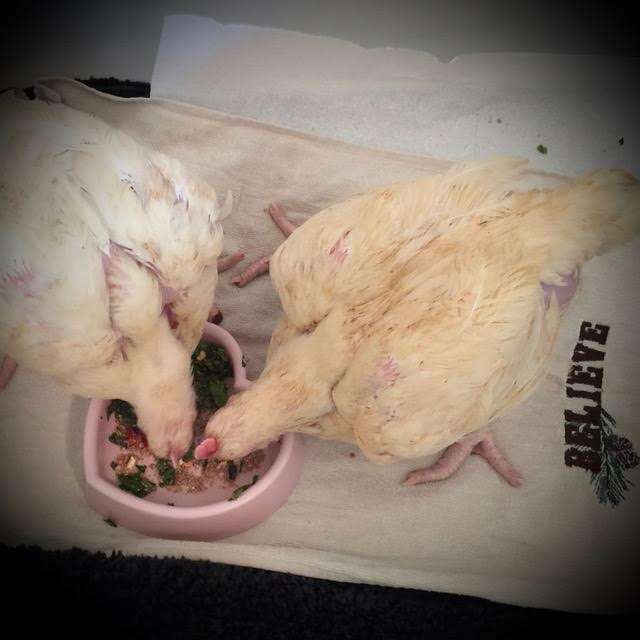 Life couldn't have taken a more unexpected turn for these two chickens, who only days earlier were earmarked for slaughter in the kapparot ceremony - a traditional Jewish rite that involves swinging a chicken over one's head to absolve people of their sins, before slaughtering the bird.
Every year, there are a few chickens who are too sick to even be sacrificed. They're typically abandoned on the sidelines.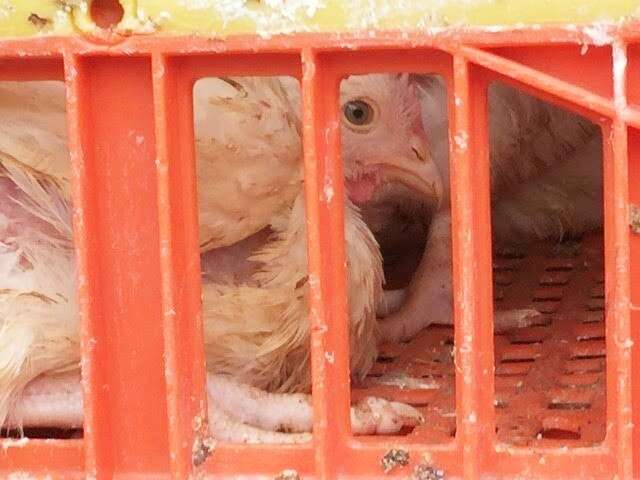 Buckles' toe had been torn off, likely during transit when crates of birds are stacked high. She couldn't stand on her own, leaving her little more than a heap of toppled feathers. And Pancakes was hardly in much better shape.
Animal lovers often stand at the sidelines at kapparot ceremonies, hoping they might be able to save even one chicken.
Moore managed to take both Buckles and Pancakes to her home in Woodstock.
Because of the way these chickens, called broilers, are stacked, their droppings fall on each other, deeply staining their feathers.
And Buckles, who was missing a toe, had to find a new way to stay on his feet. Moore recommissioned an old walker, transforming it into a chicken sling.
Buckles took to it instantly.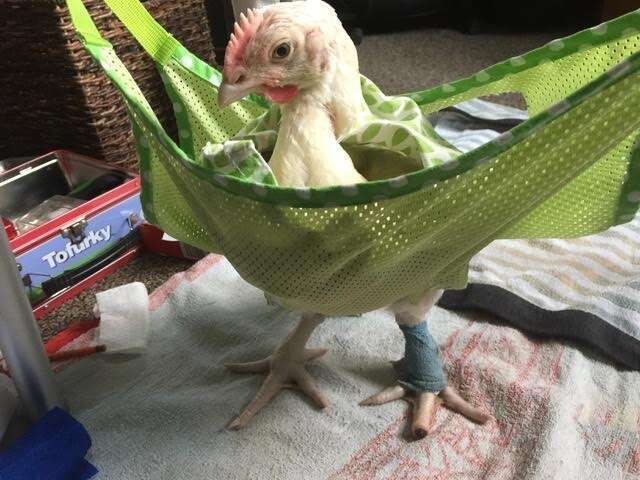 Then there's the matter of caring for chickens who were bred, and genetically manipulated to be nothing more than a meal.
"They become so big and heavy that they literally can eat themselves to death," Moore says. "It's not like other chickens who you can leave food out for them to graze on. They have to be fed very specific portions. They can very quickly grow to be too heavy to support their own weight and they have zero immune system."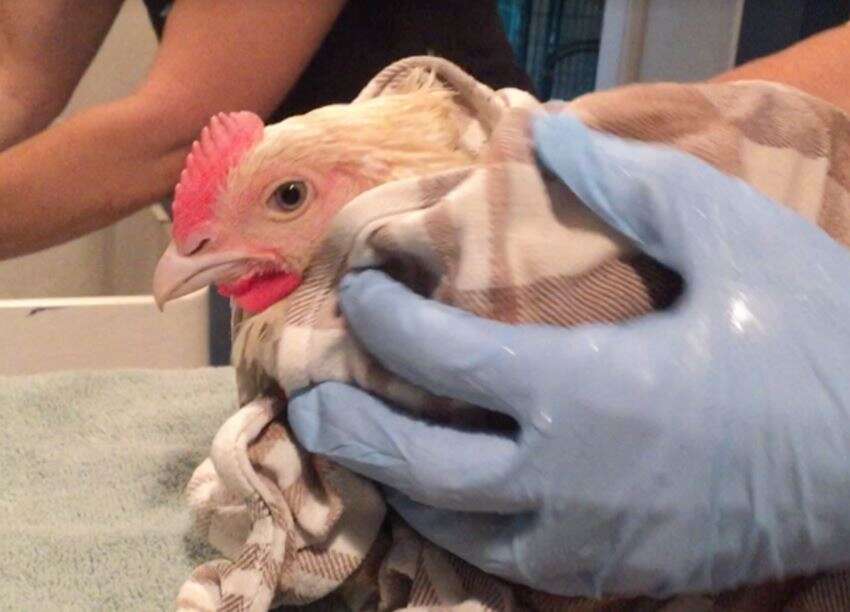 Little by little, these chickens gained strength. The only thing they didn't seem to need was faith. Despite what they had been through, Buckles and Pancakes embraced the people who saved them.
"These animals have been through such horrible stuff but within moments, they trust you and go to you for trust and support. They are incredibly forgiving," Moore says.
At night, the chickens sleep inside, under a neon rooster sign.
And then there came that first, brilliant day in the grass.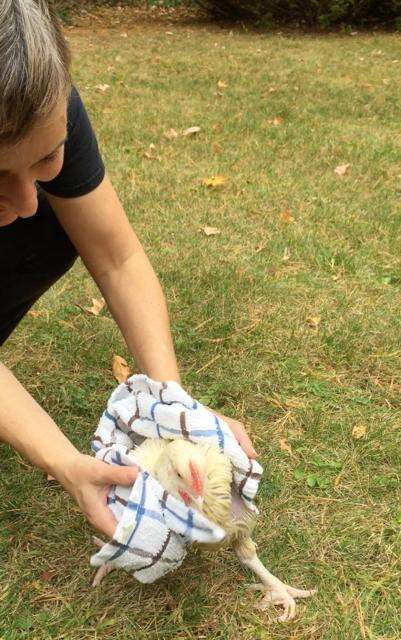 "They were still injured but it was a sunny warm day, and I wanted to grab it," Moore says. "I took them outside and they only knew me for all of two days, and now when I sit outside, the little one just collapses with her head on my leg."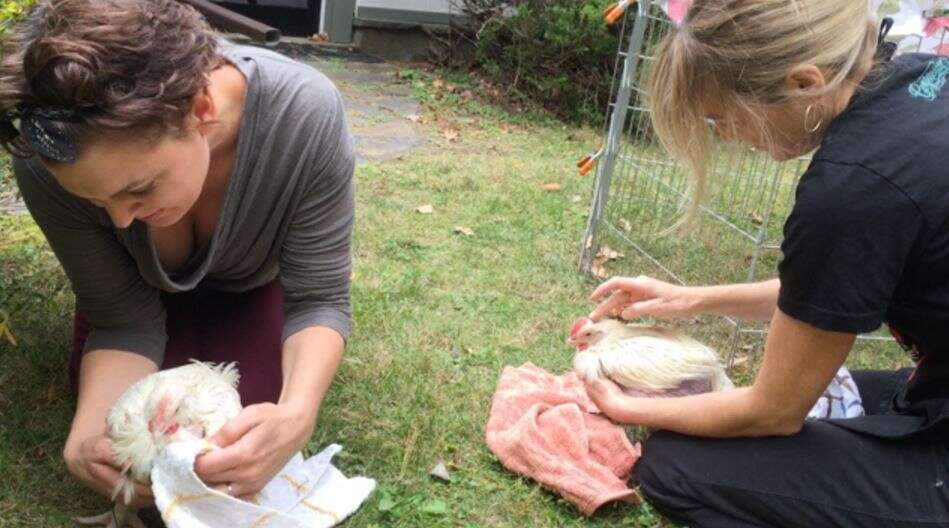 If there's a lesson in saving just a couple of chickens, it's that Buckles and Pancakes offer a shining example of how even the most downtrodden souls can blossom under the sheltering sky of compassion.
"They can actually live pretty good lives and be happy, free and loved," Moore says.