"The Carwoola area was very wildlife dense and we are starting to assess whole mobs of kangaroos," Helen Stevens of the Oolandra Wildlife Sanctuary told The Dodo. "Some of these will not be viable but we expect many to come into care."
The sanctuary currently has 38 animals in its care, and has already started to take in more from the Carwoola fire. Fire-related injuries on kangaroos can be very serious, and to fully heal, many will need to stay at the sanctuary for three to six months. If the kangaroo is very young, it could be longer.
"The main injuries are burns to the bottom of their feet, their hands and the tail where it rests on the ground," Stevens said. "Also smoke inhalation, and one I have had burns around her eyelids and to the top of her ears. They are given plenty of fluids, antibiotics, pain relief, mild sedation and nutritional supplements."
The injured kangaroos have their feet and tails wrapped up in colorful bandages ...
... and are given plenty of space to rest and recover.
The newest addition to the sanctuary is a little joey named Flash, a very frightened baby with burns on both his feet.
Poor Flash was terrified when he first arrived at the sanctuary, but he immediately started to relax when he met Flicker, a female kangaroo also recovering from burns. Flicker seemed to instantly return Flash's affection, and even let him drink milk from her pouch.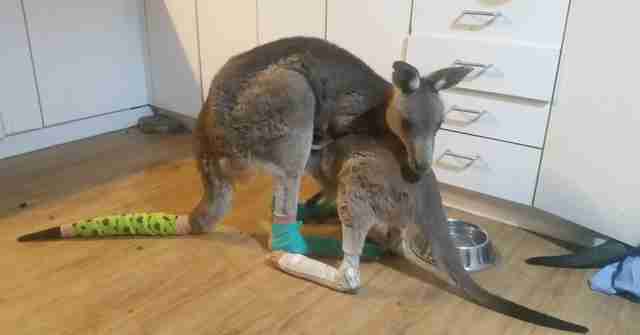 "If she allows him to bond, then Flash has found a new mum which would be a dream come true, as no matter how much we try, we can never provide the bond and love a mother and child has," the sanctuary wrote on its Facebook page. "Kangaroos have very close bonds with their joeys."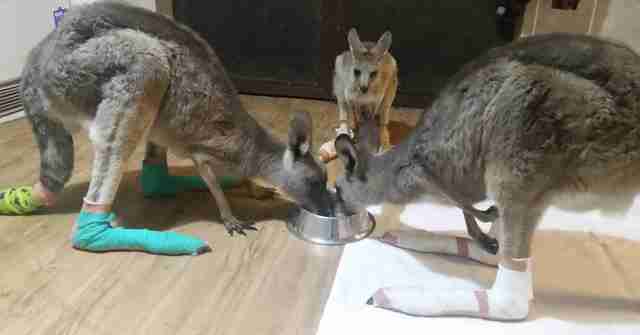 Having a fire destroy your home and burn your feet and tail is no doubt an incredibly terrifying experience, but luckily Flash and his new friends now have a safe place to relax and heal, for as long as they need.