People Are Shooting Kangaroos With Arrows For No Reason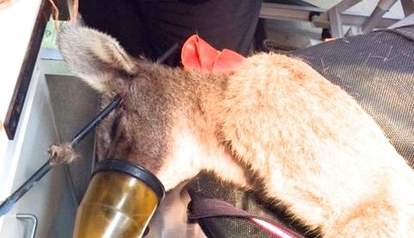 <p><a href="https://www.facebook.com/MacedonRangesWildlifeNetwork" target="_blank">Facebook/Macedon Ranges Wildlife Network</a></p>
A kangaroo in Australia was shot in the head with an arrow and wandered around for days in pain before he was finally rescued - but by that point, it was almost too late.
Three days after the 14-year-old kangaroo, nicknamed Spot, was found, he sadly passed away, The Daily Mail reported. Spot is believed to have survived nine whole days in the wild with an arrow through his head before rescuers were able to catch him.
When the arrow was initially removed, there appeared to be no fracture to Spot's skull, and no permanent damage for that matter. After his surgery at Lort Smith Animal Hospital in Melbourne, Australia, Spot was transferred to the Wild About Wildlife sanctuary. The hospital was planning to evaluate Spot again in six weeks before returning him to the wild. However, the stress from his injuries likely caused Spot's death, reported The Daily Mail.
Lort Smith issued a statement on Facebook from Dr. Russell Harrison, head of hospital services, regarding Spot's death: "We are very sad to hear Spot the kangaroo passed away this morning, especially after having survived nine days in the wild in a serious condition, and surviving the surgery to remove the arrow."
Lisa Milligan, who volunteers with Wild About Wildlife, thinks cases like Spot's, where wild animals are injured to due archers, happen much too often. "It is getting worse and worse. We see so much of it and I have had enough," Milligan told The Daily Mail.
Shooting any kind of animal with an arrow is illegal in Australia under the National Parks and Wildlife Act and the Prevention of Cruelty to Animals Act, but lately this statute doesn't seem to be enough. Incidents involving kangaroos being shot with arrows are causing some to call for compound bows, a type of bow and arrow using a system of cables and pulleys, to be banned altogether.
Whatever the solution, hopefully something can be done so this kind of tragedy can be avoided in the future.