Kangaroo Trapped in Mine Lassoed to Safety
Over the weekend, police officers at the Daly River station in Australia's Northern Territory got an unorthodox rescue call: a kangaroo trapped down a copper mine.
A local resident phoned in to report that the kangaroo, specifically an antilopine wallaroo, had fallen into the abandoned shaft. When officials arrived on the scene, they were forced to get creative in working out how to remove the frightened creature safely.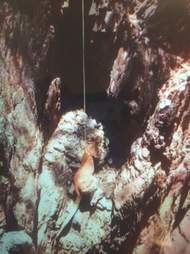 "It was risky to abseil the mine shaft so the three rescuers lassoed the kangaroo, hauled it out of the mine shaft and set it free," Senior Sgt. Garry Smith told ABC News.
The kangaroo reportedly weighed in at around 50kg (more than 110lbs).
The cowboy-like rescue was a change of pace for the Australian police, who regularly receive animal calls about wandering cattle, snakes, and crocodiles.
This kangaroo should probably consider itself fortunate, considering the data on annual kangaroo culls in Australia. Last year, the commercial harvest resulted in the deaths of approximately 2.5 million kangaroos, according to the Australian Wildlife Society's website.