The little brown dog was well on his way to an end that was as excruciating as it was anonymous.
He was left alone in a field near a Canadian Tire store with electrical tape wrapped so tightly around his mouth, neck and paws that he could hardly move.
Windsor/Essex County Humane Society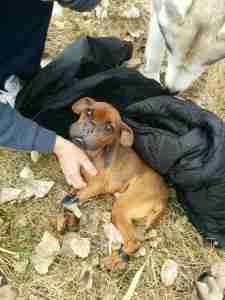 It was, in fact, his own kind that discovered him. Along with a kind stranger.
"I had gone shopping at the Canadian Tire, came out and the dogs were in my vehicle so I thought I'd give them a little walk," area resident Dean Cresswell told the Windsor Star.
"For some reason they went down further than they normally do ... so I went to see where they were at and I saw the little head poke up. That's when I saw the little dog.
"I don't want to say too much because I'm going to get all upset again."
Windsor/Essex County Humane Society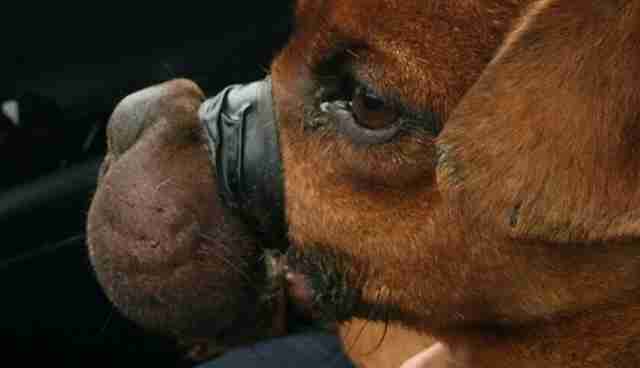 Without a knife to cut the dog's bindings, Cresswell called police. As it turned out, his intervention came not a moment too soon.
"The veterinarian has indicated that he probably wouldn't have survived more than a few more hours," Melanie Coulter of the Windsor-Essex County Humane Society told CBC News.
Windsor/Essex County Humane Society
The dog, who was named Justice, was practically paralyzed. His mouth and paws were severely swollen, the organization noted on its Facebook page. His breathing was labored.
Even after the tape was removed, it took some time before he could stand on his own.
Despite the torments that had been visited upon him, Justice is expected to recover fully.
Windsor/Essex County Humane Society
"He is a very sweet dog, obviously still recovering and still in a lot of pain, but we're expecting him at this point to make a full recovery eventually," Coulter added.
And will there be justice for Justice?
Windsor/Essex County Humane Society
Michael Earl Hill, 32, of Amherstburg, Ontario, has been charged with willfully causing unnecessary pain to an animal.
More than 45,000 people have signed an online petition demanding Hill be prosecuted to the fullest extent of the law and, if found guilty, never get his hands on any animal again.
For now, it seems, everyone wants to get their hands on Justice. But the humane society says he's not up for adoption yet because he's still undergoing medical care.
A fund has been set up for Justice's treatment. You can donate here.