Dog Left On Balcony In A Diaper Now Treated Like A Family Member
It's the face that launched a thousand tweets.
June, who came to be known as #PorchPooch from England to Canada to Australia, was a sorry sight to see on the social media circuit.
June, as seen by neighbors, in November.Amber Cammack
June, as seen by neighbors, in November.

| Amber Cammack
A neighbor in the Houston apartment where June lived posted images of the dog with a shoestring tied around her mouth. Another picture showed her wearing a diaper.
After a barrage of complaints, police and animal control officers visited the Houston condo. They found the dog in adequate health and ultimately didn't charge the owner.
Amber Cammack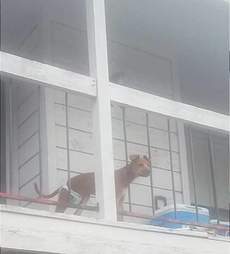 Amber Cammack
Instead, the woman who posted the photos to social media, Amber Cammack, was arrested. She spent 14 hours in a Harris County jail before the charges were dropped.
And there's no wrath like an animal lover scorned. Especially on social media, where people demanded June be taken away from her owner, Essence Gainous.
Others targeted her even more personally.
Essence Gainous / Facebook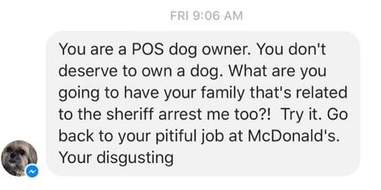 Essence Gainous / Facebook
For her part, Gainous said June was in the "care" of a friend - a man named Dukkie Love, who subsequently apologized for how he treated her.
Essence Gainous / Facebook
Essence Gainous / Facebook
"We both know it was wrong," he told The Dodo last month. "I'll never make that mistake again. It'll never happen again."
But that hasn't stopped Gainous from receiving a torrent of abuse, and even threats, from around the world. While she regrets what happened, she tells The Dodo, she had no choice but to leave June with her friend.
"I was in an car accident. I was rushed to the hospital and my car was totaled," she says. "And I lost my apartment.
"That's why June was not in my care."
After being sidelined by a shoulder injury, Gainous returned to work - and June was returned to her care.
Essence Gainous
Essence Gainous
Today, just weeks after those brutal images of a dog in torment were posted, June looks like a different dog.
Essence Gainous
Essence Gainous
Despite her internet infamy, Gainous was also the recipient of an unlikely act of do-goodery. A fund was created to help her pay for June's surgery - the dog had been suffering from a persistent leg injury.
Essence Gainous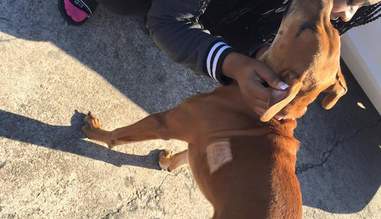 Essence Gainous
And, along the way, Gainous says she has learned to appreciate a woman she may have once perceived as an enemy.
"Amber Cammack may not have went about things the proper way... but all this happened because she had a voice," Gainous says. "And whether it was wrong or right I'm glad it happened."