July 15th is National Pet Fire Safety Day!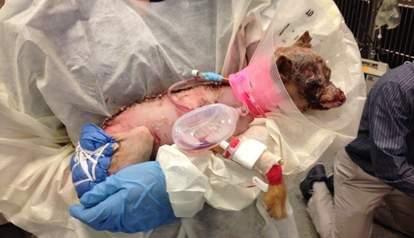 2014 has already been a rough year for firefighters, victims of fires and their families. Boston-based animal protection organization, FOUR PAWS International, reminds pet owners of some very important pet fire safety tips:
1. Pet proof your home. Look around your house and notice any areas where pets might accidentally start fires (i.e. loose wires, stove knobs, tree/plant lights, candles, etc.)
2. Always remember to extinguish open flames before leaving a room or leaving your home. Curious pets will often explore candles, fireplaces, and cooking appliances.
3. Confine puppies and kittens to secure areas when you are away from your home, so that their young curious natures are not so inviting to potential hazards.
4. Practice escape routes with your pets. Keep collars (with updated I.D. tags) and leashes readily available in case you have to evacuate quickly.
5. Affix Pet Alert window stickers to one window on each side of your house, on each floor. On the sticker, note how many pets are inside the home, and the types of pets. List the pet's names so that they will not be afraid if a firefighter or rescuer calls out to them. Keep this sticker information updated – it will save firefighters time and will assist them in looking for your pets inside your home. These stickers are also good for pet identification purposes in the event of a disaster in your area.
6. Use monitored smoke detectors if at all possible, since pets left alone cannot escape a burning home.
On July 11, 5 year-old Papi was critically burned in a Masachusetts house fire. Doctors at Boston's MSPCA-Angell Animal Medical Center are caring for the dog, who has second and third-degree burns along his entire backside. (Photo courtesy of MSPCA-Angell).