Hunters in North Carolina can't tell the difference between common coyotes and extremely rare red wolves, one of the most endangered animals in the world - so now neither can be killed.
A federal judge yesterday ordered an end to open season on coyotes in five counties in the state where hunting had been allowed after eleven wolves were mistakenly shot dead. With only around 100 of these animals remaining in the wild, the loss of even one individual constitutes a significant blow to their already uncertain recovery.
Red wolves, native to the southeastern United States, were one driven to the brink of extinction by the 1960s from overhunting. After being listed as a critically endangered species in 1967, captive breeding programs have helped to bolster their numbers slightly, but the population has since been in decline again.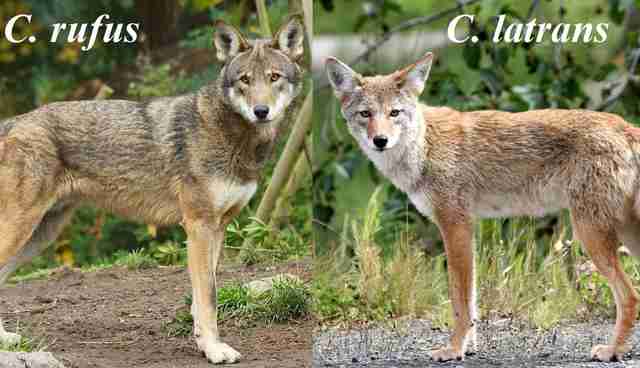 Red wolves (left) are often mistaken for coyotes.
Conservationists had argued that the close resemblance between coyotes and red wolves made it a "near impossibility" for hunters to avoid shooting the wrong animal, so the coyote hunt was in violation of the Endangered Species Act.
"Mistaken identity results in red wolves getting shot," said Sierra Weaver, from the Southern Environmental Law Center in Chapel Hill. "Ending coyote hunting would be the cleanest, easiest way," to avoid those killings, she told Reuters.
The decision whether or not to reinstate the coyote hunt will be under six-month review.