Let's Take A Global Stand Against Extinction
<p>Artwork by © Asher Jay 2014, <a class="checked-link" href="http://www.asherjay.com/" rel="nofollow nofollow" target="_blank">www.asherjay.com</a><a class="checked-link" href="http://www.mapphotographic.com"></a></p>

On October 4, thousands of people in more than 100 cities across the world will take to the streets and demand a revolution. Not a revolution in specific governments, but a revolution in how we're treating our planet's animals. Saturday is World Animal Day, and on behalf of all the world's creatures, it's time that we put an end to a vicious wildlife trafficking industry that has pushed some of our world's oldest and keystone animals to the brink of extinction.
Scientists estimate that we have lost more than 50 percent of all our world's animals in the last 40 years. Among those, elephant populations have faced such traumatic declines that they could become nearly extinct in the wild in as little as ten years. Rhinos are in graver danger still. And the loss of both these species will devastate the ecosystems and countless plant and animal species that depend on them.
The extinction crisis is here. It's happening right now, before our eyes. But together, we can take a stand against it.
In honor of elephants and the fight against extinction, Elephants DC is proud to be hosting the Second Annual International March for Elephants in Washington, DC this Saturday on World Animal Day.
Here in Washington D.C., we're marching to the White House to call for a complete and unequivocal ban on ivory sales. More than 100,000 elephants were killed for their tusks in the last three years. To stop it, we need to get the message out loud and clear: ivory is not art. No one needs an elephant's tusk except an elephant. Ivory trinkets are not worth the extinction of a vital and beloved keystone species.
(Asher Jay: www.asherjay.com)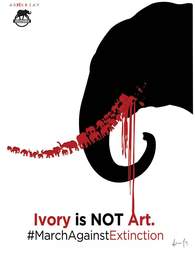 Join us at our march in DC, or, if you live elsewhere, attend a march in a city near you! This is our chance to unite globally to take a stand against injustice. This is our chance to protect the future of our planet for our children and their children, so that they can grow up in a world where elephants still roam the earth. And with one elephant slaughtered every 15 minutes, and with elephants being killed faster than they procreate, Saturday is our moment to rise up for future generations, the biodiversity of the earth, and our humanity.
Now is the time. Let's join our hands and voices together and make a difference, for the elephants, and for all of us.
(Asher Jay: www.asherjay.com)
Join our march – Here's how!
Here are all the details on the march in Washington DC, the rally afterwards by the White House, and our inspiring line-up of distinguished speakers and guests. (You can also check out our Facebook event page.)
Speakers include New Jersey lawmakers Senator Raymond Lesniak (D-20) and Assemblyman Raj Mukherji (D-33); Washington DC Councilman David Grosso; Wayne Pacelle, CEO and president of The Humane Society of the United States; Princeton University professor Andrew Dobson; and renowned multimedia artist Asher Jay who is a 2014 National Geographic Emerging Explorer. John Beacher, a singer-songwriter from Bucks County, Pennsylvania, will be performing. (For more on our inspiring speakers and guests, click here.)
Want to bring a sign to the march? We encourage it! Signs are a great way to make a powerful visual impact, and let everyone passing by our march know why we've taken on this mission. Bring one if you can! Create a sign from a pre-made template. The iWorry campaign has designed some beautiful placards:
Or create your own sign! Speak from your heart, and share with the world why you're passionate about protecting elephants. The world needs to hear it. Here are a few examples of phrases you could write:
Ban All Ivory Sales Now
E Is for Elephant, Not Extinction
Only Elephants Need Elephant Tusks
Never Buy Ivory
#MarchAgainstExtinction
Say No to Ivory
End the Ivory Trade
One Elephant Every 15 Minutes
100,000 Elephants Killed in 3 Years
Our Children Deserve a World With Elephants
Stop Poaching Now
Save Elephants From Extinction
Ivory Is Not Art!
...and so on! Be creative, be yourself, and be there for the elephants.
We look forward to seeing you all on Saturday. Thank you!