To Sec. of State John Kerry:
Dear Mr. Kerry, first of all I commend your stand on the P.O.W.'s in Vietnam. You stood with one voice with them and did the right thing and said that no P.O.W.'s should be left behind. We are truly trusting that you will do the honorable thing again for our deserving P.O.W., "Colonel."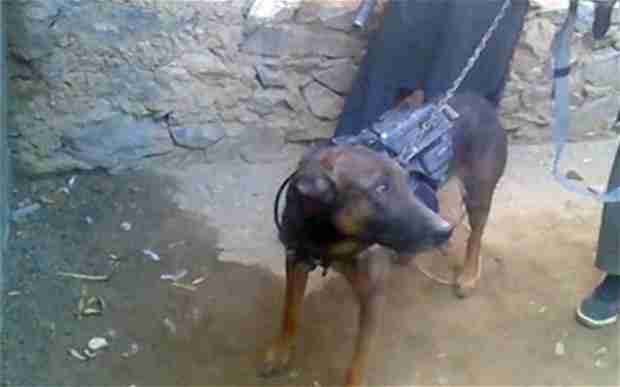 Captive British Military Working Dog, Colonel. Photo credit: AFP As you are aware one year ago "Colonel," a military working dog serving alongside the British SAS, was captured by the Taliban. We, the public, don't know all the details except that in an area east of Kabul a firefight broke out between the two sides and "Colonel" was separated from his handler. Images of "Colonel" surrounded by fighters emerged and that was the last we saw of him. Zabiullah Mujahid, a spokesman for the Taliban, said that senior commanders weren't sure what to do with "Colonel" but they would be open to releasing or trading him.
As you know people from every walk of life all over the world have responded to this from petitions to compassionate voices. Isn't it interesting that "Colonel" has brought so many people together?
Numerous petitions appeared online asking for leaders to get involved and bring him home. Patricia from Georgia wrote on one, "This dog served as active military. It is not a dispensable commodity." Many pointed out that military dogs do not choose sides and are neutral. Erika from California wrote, "This dog didn't sign up for this war. All he wanted to do was please his handler. He deserves to be rescued as the loyal soldier that he is. Please do the right thing and bring him home." Terry from Australia wrote, "It's a matter of saving a hero." And Maria from Mexico added, "Service dogs give their life for all of us without hesitation."
Military working dogs deserve the same loyalty extended to their human counterparts. We ask you, John Kerry, to consider all options and bring "Colonel" home for the holidays. He is depending on us just as people have depended on him to save their lives. "Colonel" doesn't know or care what side he's on. He is just loyal to his handler and dedicated to saving lives by putting his own on the line. Let's make it a joyful holiday for "Colonel" and his supporters. This is one of the first times a dog has been taken prisoner – we can end it here.
*If you would also like to write to Sec. Kerry, please feel free to use the below template to fill in this form* Re: the safe return of British Military Working Dog Dear Secretary of State John Kerry, One year ago this month, a loyal British military working dog named Colonel was captured by the Taliban. He has not taken any side in the war other than loving his handler and the humans around him.
You said no P.O.W.s should be left behind and Colonel has the same right as any other soldier to be brought home.
I hereby urge you to let us know what concrete steps you will be taking to bring him back. The public demands to know about our hero soldiers and in this case in particular Colonel.
Sincerely, [INSERT NAME HERE]