He haunted a Miami street corner for days, a scared, skittish dog certain that the owner who dumped him would return.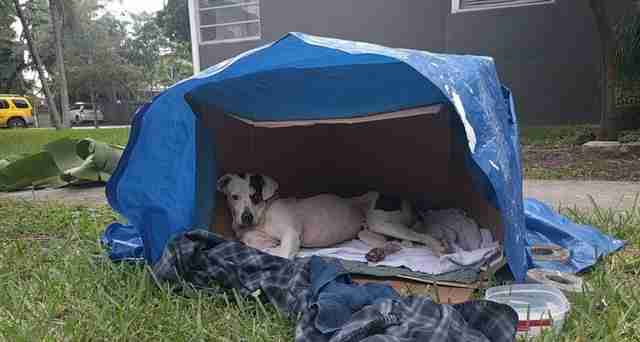 It took neighbors days to convince him otherwise, and gradually coax him from a makeshift cardboard box to a truck to an animal hospital and, finally, to a rescue organization.
And many days more to prove to him that his owner wasn't worth the trouble.
The Dodo first reported on the dog neighbors called Joey in January. His misplaced faith in an errant owner broke hearts the world over - but most immediately, in the neighborhood where he held the saddest vigil, waiting for a ride that never came.
"We go out there every day," resident Julian Rovito told The Dodo in January. "We're feeding him. We're trying to get him to trust us. The next step is to get him a crate. Put him in there and take him to my vet."
Neighbors ended up giving him the most important ride of his life - one that took this heartsick, hurting animal from the corner of 10th Avenue and North River Drive to the Alton Road Animal Hospital.
Once there, Joey gave an early, telltale sign that his spirit hadn't been completely crushed.
He wagged his tail.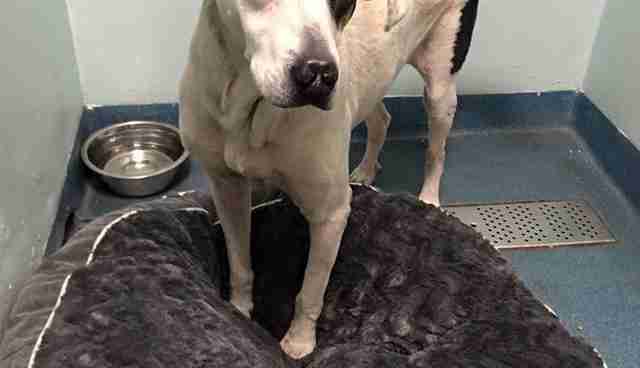 A Miami rescue called Animal Recovery Mission (ARM) set to work finding Joey a home.
And, it turns out, Joey didn't have to wait long. Last Friday, he was adopted.
"Joey is winding down," his new mom Cynthia Cruz Ortiz wrote on her Facebook page, shortly after bringing him home. "At first he just wanted to hang out by his bowl. Then he hung out on the screen patio with us. He finally sat on his new pillow and is getting ready to chill for the day. He is handling all of this superbly. He's so awesome."
Joey has exchanged his desolate view of passing street traffic on a Miami corner for one of water and trees and the unflagging hope of a sheltering blue sky.
And most importantly, he has exchanged an owner, who rewarded his faith by abandoning him, for a family whose faith in him will never flag.
That's thanks to the people who form a bastion of compassion at 10th Avenue and North River Drive. And to the folks at Animal Recovery Mission. If you would like to support the group's efforts in saving countless dogs like Joey, consider making a donation here.