In a new PETA video, Joaquin Phoenix gives a harrowing account of dogs who are killed for their skin in China. The animal activist organization suggests that consumers around the globe could be buying dog leather unwittingly.
WARNING: Graphic Content Below
In its late 2014 investigation, PETA reported that one plant was processing 30,000 pieces of dog leather and that 300 dogs were awaiting slaughter. In the video, dogs are beaten and skinned alive.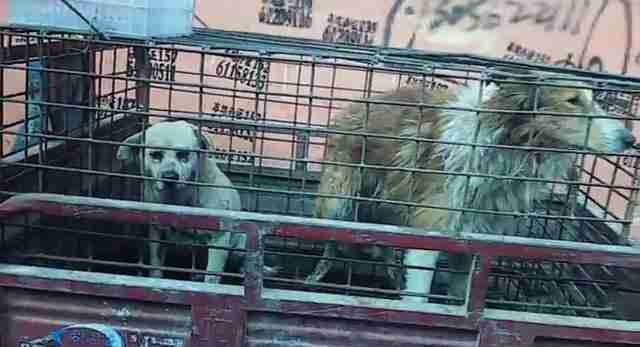 The problem is not unique to China. Certain Thai manufacturers, for example, make golf gloves out of dog leather. And PETA implies that canine leather may have made it to the United States: "Products made from dog leather are exported throughout the world to be sold to unsuspecting customers."
In the United States it is illegal to manufacture and sell products made from dogs, the U.S. Office of Textiles and Apparel told The Dodo. (To show you what a below-the-radar issue this is, The Dodo had to reiterate that, yes, we really were asking about leather made from dogs.) Under the Dog and Cat Protection Act of 2000, an offender can be charged up to $10,000 for each instance of importing a dog fur product.
The U.S. Customs office is in the process of responding to The Dodo's inquiry regarding canine leather seizures; this post will be updated to include its response.
Though it may not be humane, it is not illegal in China to kill dogs for their skin, PETA says.
At the same time, it's important not to vilify an entire country, wrote Wayne Hsiung, a founder of animal welfare organization Direct Action Everywhere. "There are countless Chinese who have cried just as many tears," he said, "and felt just as much anger, over the murder of dogs and other animals. There are Chinese people risking their lives to help animals in need."
Here's Phoenix - fair warning, the video contains extremely graphic footage: