Jimmy John's Owner Exposed For Hunting Endangered Animals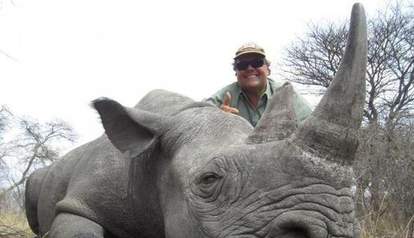 <p><a href="https://twitter.com/JonahLupton" target="_blank">Twitter/Jonah Lupton</a></p>
In the wake of the Cecil tragedy, people have been quick to identify celebrities and public figures who hunt or have hunted wild animals in the past. Cecil was such a loss and no one wants to feel that again. The culprits of trophy hunting are quickly being identified - including the owner of a popular fast food chain.
The website Smile Politely posted photos back in 2011 of the owner of the popular chain restaurant, Jimmy John's Gourmet Sandwiches, hunting wild animals. The photos were taken with Johan Calitz Safaris and show Jimmy John Liautaud hunting both elephants and leopards. Ugh.
Jonah Lupton brought attention to the photos on Twitter and later posted additional photos that also include Liautaud hunting rhinos.