From the moment Willy-Joel the pig arrived at the sanctuary, nothing was ever the same. Kelly Nelder, founder of Sugarshine Sanctuary in New South Wales, Australia, wandered outside one morning to see an agitated pig pacing along the outside of the sanctuary's gate. At first, she thought one of her rescued female pigs had gotten out - Patchy or Charlotte. But when Nelder dashed to the gate, she realized she'd never seen this pig before.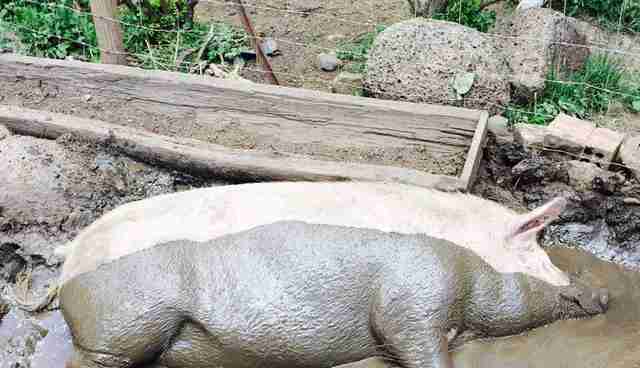 Willy-Joel was a fully-grown adult male with white skin and hair, and a fear of people. He also wasn't neutered.
No one else in the area kept pigs, and when Nelder asked the council ranger and her neighbors about the pig's mysterious arrival, no one had any information to share. She came to the conclusion that someone had deliberately dropped Willy-Joel off at the gate, probably because they couldn't - or didn't want to - care for him anymore.
Nelder and the sanctuary volunteers put him in a separate gated enclosure until the veterinarian could come over to neuter him. But Willy-Joel had different ideas. "That night he broke into the main pig pen and he and Patchy Pig fell instantly in love," Nelder tells The Dodo. "They spooned and went on romantic moonlit walks together and snuggles together at night. We separated them, but the next two nights we found them snuggled up again. We were worried, but we knew that Patchy was very old so we hoped she wouldn't get pregnant."
Then the real scandal began. On the fourth night, instead of breaking into Patchy's enclosure again, Willy-Joel decided to shack up with the other female - a rescue pig named Charlotte, who'd previously been used in pig races at carnivals and fairs.
When Willy-Joel tried to reunite with his former girlfriend, Patchy protested. "Patchy chased him round the pen," says Nelder. "She would have nothing to do with him."
Willy-Joel and Charlotte's night of passion resulted in an unexpected situation - Charlotte was knocked up. "We were shocked and read up everything we could so we could be prepared for the birth," Nelder says. "We visited the vet and organized a roster so someone was always home. We scrubbed out and disinfected the barn and bought a heat lamp. But we're a no-breed sanctuary, so this wasn't something we had ever planned for."
When the big day came, Nelder and the Sugarshine volunteers helped Charlotte give birth to 11 piglets - 6 girls and 5 boys. One of the piglets wasn't breathing when Charlotte delivered him, so Nelder performed mouth-to-snout resuscitation to save his life.
Charlotte was an excellent mother - gentle, loving, attentive.
Patchy might have her issues with Willy-Joel, but she held no grudge against the babies. In fact, according to Nelder, she became the piglets' honorary aunt and helped Charlotte raise her family. "Patchy was amazing," says Nelder. "She slept near the piglets every night and would babysit them when Charlotte needed a break and went for a walk by herself. Patchy would curl around the piglets in a C shape and let them climb all over her. They still come up and snuggle up to her and nap. They give her a very loving and respectful greeting of gentle snout kisses. If the piglets were distressed about something, Patchy would make loud warning noises and come up and investigate."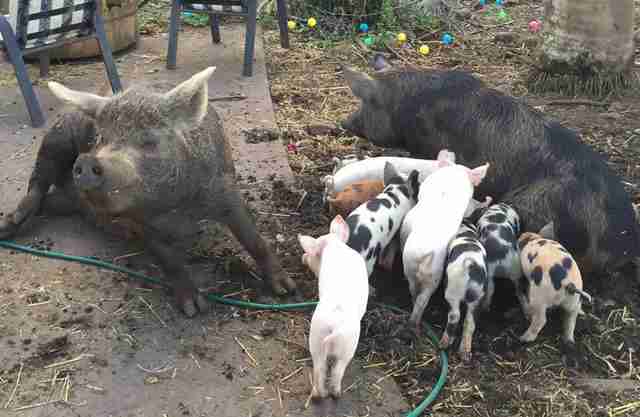 Local families adopted seven of the piglets. The other four - Bliss, Puppy, Leopardio and Cecil - remain at Sugarshine Sanctuary with their mom, dad and Aunt Patchy.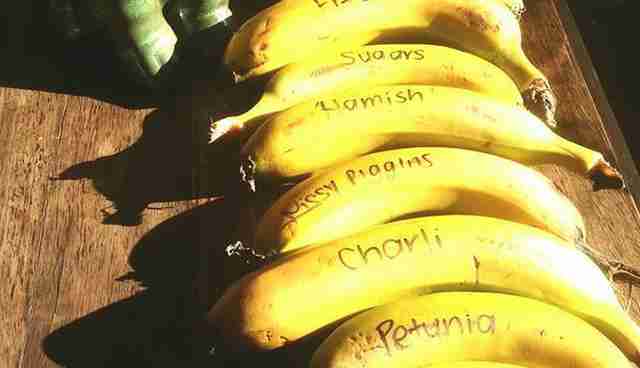 The now-grown-up piglets like to roam around in a pack and beg for belly rubs. They also like squirming under the fence and greeting visitors, rubbing mud all over the volunteers and sneaking into the house to steal ice cream from the freezer. (Nelder's had to put a lock on the freezer door.)
Willy-Joel - once terrified of people - will now approach visitors for pats, too.
"Very few pigs get to spend their lives safe and loved with their mother and father and loving aunty," Nelder says. "My heart swells up with love when I see how close they are and what a happy family they are. Pigs are curious, playful, smart and cheeky, and watching them grow up is a joy. I would never promote breeding when there are so many pigs needing rescue. However, watching the piglets tumble and cuddle together has been one of the most beautiful experiences of my life."
Sugarshine Farm Sanctuary is an animal haven in New South Wales, Australia, that approaches animal rescue in a non-judgmental way. They believe animals need love, affection, mental health and joy, as much as they need food, water and shelter. To support Sugarshine, you can donate here.