Kitten Rescued From Chimney Loves All The Animals On Her Farm
Her name is Jessica.
Pam Ahern is used to rescuing farm animals of all kinds - sheep, pigs, goats, chickens - as part of her work running the sanctuary Edgar's Mission in Victoria, Australia. What Ahern isn't used to rescuing are cats.
But when Ahern got a call from a woman who told her about a kitten trapped inside a chimney at a local bakery, she knew she had to help.
According to the woman, who simply identified herself as Jessica, the kitten had been crying for hours - maybe days - but everyone at the bakery was ignoring her. Everyone, that is, except for Jessica.
Jessica asked the bakery owner for help, but he refused. She called the local police - they wouldn't help either. Next she tried contacting the state emergency service, local vets and wildlife rescue groups, but no one offered to help, according to Ahern.
Eventually Jessica found the number for Edgar's Mission. Ahern was the one who answered the call. "We quickly realized that we were indeed this kitty's and Jessica's last hope," Ahern tells The Dodo. "It was a busy Sunday and chores beckoned, but the plight of the poor animal tugged harder at my heartstrings, so off I went."
When Ahern arrived at the bakery, she realized it wasn't going to be an easy rescue. The kitten had fallen deep inside the chimney - Ahern suspects the kitten's mother was trying to move her across the roof when she fell in. The bakery owner had given Ahern strict instructions not to damage his property.
What's more, the kitten was really young - maybe 10 days old. Ahern worried about the kitten's survival, especially as she'd probably been in the chimney for a few days, according to Ahern.
But Ahern refused to give up. Ahern wriggled up through the chimney, past cobwebs and soot, but she managed to grab hold of the tiny, meowing kitten and pull her out to safety. She decided to name the kitten Jessica, after the woman who saved her life.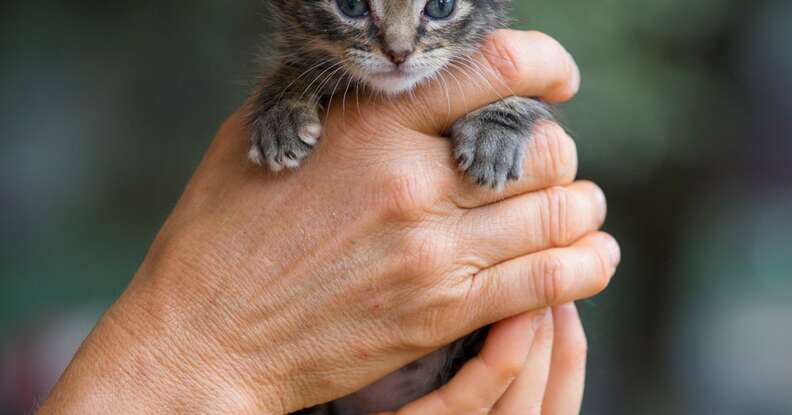 Jessica the kitten was skinny, hungry and dehydrated, but she was alive - that was the most important part. Ahern took her back to the sanctuary, where the kitten's life changed forever.
"Being so vulnerable, Jessica was popped inside my jumper and got to meet many, many animals about the farm," Ahern said. "In particular, the many orphans who bunkered down in the office-cum-nursery during the day."
Jessica the kitten seemed to love all the animals, but was particularly crazy about Ahern's dog, E.T. In fact, they were best friends until E.T. passed away last year.
Jessica also adored "training" Ahern and the other people at Edgar's Mission. "One of her favorite games is to see who will open the door for her," Ahern explained. "We all work in an office that runs off from the lounge room of my house. Jessica waits until everyone is sitting down, then appears on the other side of the glass door and scratches madly until someone gets up and lets her in. Then, just for a bit of fun, she decides she wants to go back into the house so she wanders over to the glass door, scratches madly until someone gets up ... and lets her back into the house again."
Jessica also loves cuddles, but usually at the most inappropriate times. "Like when you are madly typing for a deadline, stark naked and about to jump in the shower, and minutes before you have to get out of bed," Ahern explains.
Now that Jessica's older, she likes to assert her authority with the other rescue cats. "As long as they understand Jessica is top cat, things are all well and good," Ahern says. "We have even spied Jessica playing with them, but we won't let her know we have seen that."
... but she probably doesn't mind that either.
The farm animals clearly adore Jessica, and Ahern adores Jessica as well. "I love the way she snuggles into your lap and outstretches her paw towards your mouth so you can kiss it," Ahern says. "Also the way she looks into my eyes then slowly closes hers as if she is in the happiest place on Earth. That makes me feel blessed."