J.Edgar, or How I Went South For A Tan, But Now I Rescue Dogs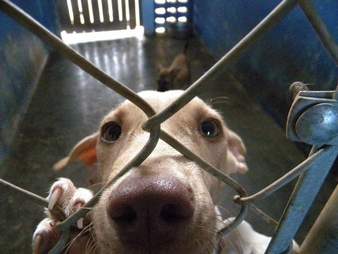 I am Laurie, and I am a Canadian who dislikes the cold and dark. One winter, our family flew south to get some sun and heat and drink cool drinks under the Caribbean skies. We fell in love with Vieques, Puerto Rico, so much so, we built a cottage there. I thought while in Vieques, we would kick back and leave our stress behind. But what I found was a community, two and four legged, who could use my help. I have always been an animal lover and picking up strays is part of my MO, but here I found some of the best dogs in the world. And we do have comparisons of World Dogs, having picked up a desert dog in the United Arab Emirates and flying her home with us, adopting a hurricane Katrina dog at our local shelter, and now our two lovely Satos from Vieques. It was during the building of our cottage that J.Edgar found us. This skinny, malnourished, blonde, spunky bundle of scruffiness jumped into my arms , wrapping himself tight and refusing to let go. He stole our hearts and we knew he was ours. Unfortunately, J.Edgar was very ill. He came into our lives too late to live a long life with us. We brought him home, loved and cherished him and then after a few short months, he died. Our hearts were broken. J. Edgar's loyalty knew no limits. After spending his whole life on the streets, he trusted us when we put him in a car. through airports and escalators, on a plane, leading him through snow drifts and then finally into his new home. Without a look back, and his tail wagging, he knew he was safe. We knew we had a fantastic, loving new family member. At the time of his death, I vowed to go back and rescue as many of his kin as possible and make the lives easier for those must stay behind.
Vieques has a gift, and that being, the amazing individuals who come to the aid of the island's abused, neglected animals, My newly adopted community has dedicated volunteers who work so hard with so little in trying to improve the lives of the island animals. Currently in place is a program called Juntos, an educational school program that was designed and implemented by volunteers to educate the local children in the humane care of their satos, gatos (cats) and their horses. There is also an ongoing, subsidized spay and neuter clinic to encourage the Viequenses to alter their satos and gatos. But all this good work comes to a halt, for no fault of their own, at the gates of the Vieques Humane Society. Geography has thrown a hard punch at our Satos. It is very expensive to move a dog off our tiny island to their forever home. If these dogs are not given their wings, here they remain, sometimes for their whole lives. This small organization has a big problem that requires a goodly sum of money. The relentless fundraising, the tears, strife, heartbreaking work of these amazing people is dependent solely on the visitors who come seeking winter pleasures. This shelter has no government funding, there are no large corporations or hotels ( which makes it a perfect holiday) to plead with for money. Their operating budget comes from the tourists and expats, who fall in love with the dog living under their balcony, in their ally way, the ones they see on the way to the beach, or the lovely faces pleading at the restaurant doors. Such a tough existence for these sweet pups, and so exhausting for these amazing volunteers.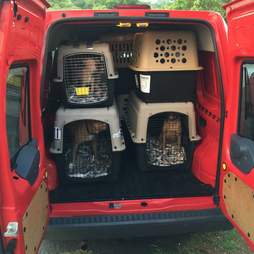 So here I am, today, launching a very ambitious, most say unrealistic, crowd-raising campaign, to get the dogs who are in care of the Vieques Humane Society, off the island into their partner shelters on the mainland USA. The adoption rate is almost nil on the island. The only chance of getting these sweet dogs a home is to relocate them to shelters where there is a hope of adoption. This is my fight and I will go down swinging. I owe it to J. Edgar who gave me so much. Its the least I can do for one of the loveliest dogs I have ever known. Our Big Fat Caribbean Rescue campaign is almost half over and i need help. And lots of it. So if you have ever been on holiday and have seen these dogs, or if you have a sweet dog in your life and just wish every dog had his life, well stop wishing, your dream has come true. Feel like a super hero and go to our site, http://igg-me/at/caribbean-rescue/x/11941002. You can also visit my website www.viequesrescue.com or facebook page, Our Big Fat Caribbean Rescue and at twitter @ViequesRescue If you could share this effort with friends and family, you will make the volunteers' day at VHS and the tails will wag. Vieques Humane Society is fighting the good fight, but they need the resources to throw these Satos a lifeline. You could be the one that gives a dog wings, to fly to their forever homes. It's a great day to be you!