Japan's Dolphin Hunt Likely Violates Japanese Law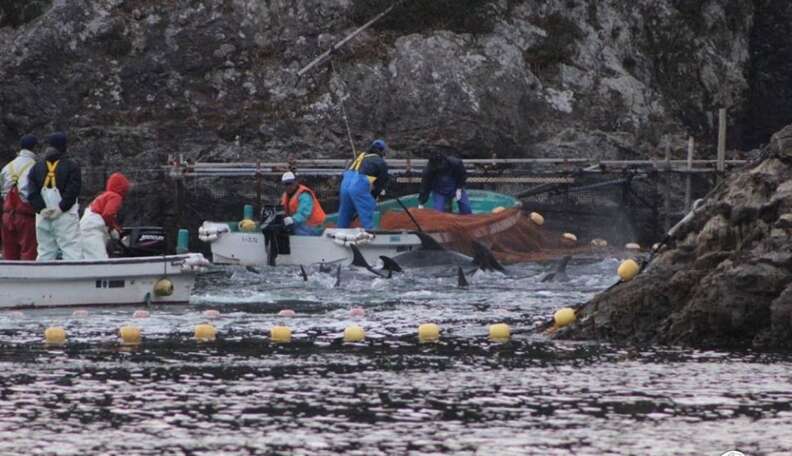 <p><a href="https://www.facebook.com/SeaShepherdCoveGuardiansOfficialPage/">Sea Shepherd Cove Guardians</a></p>
As Japanese officials continue to defend the ongoing slaughter of dolphins trapped in the infamous Taiji cove, deflecting international criticism of the practice under guise of "tradition," one pesky detail has apparently been overlooked -- the dolphin hunt is likely in violation of Japanese law.
Although there are no international regulations in place which protect dolphins from being killed, decades-old legislation in Japan prohibits inhumane treatment to animals.
According to Japan's Act on Welfare and Management of Animals (Act No. 105 of October 1, 1973), the stated purpose of which is to prevent cruelty to animals and to "engender a feeling of love for animals among the people," Taiji's dolphin drive is by all interpretations illegal:
"All people must not only refrain from killing, injuring, and inflicting cruelty upon animals, but they must also treat animals properly taking their natural habits into account."
While "cruelty" is a subjective term -- and one that may not even apply to fishing and hunting -- Japan's dolphin hunt isn't merely pushing the envelope in light of international standards, it's shockingly out of step with established norms.
The standard method of killing dolphins used by fishermen in Taiji cove involves stabbing a thin metal rod behind the animal's blowhole in an attempt to sever its spine. An independent assessment by Dr. Andrew Butterworth found that this method did not meet global expectations of "immediacy" required for animals being slaughtered, noting that dolphins continued to show signs of life 254 seconds after being stabbed.
"It would not be tolerated or permitted in any regulated slaughterhouse process in the developed world," says Butterworth.
Japan's dolphin hunt doesn't even come close to meeting the guidelines for slaughter set forth by the World Organization for Animal Health -- detached from the ethical question of whether dolphins should be killed in the first place. These conservative guidelines call for animals slaughtered for human consumption to be kept with minimal stress and killed swiftly with the least possible pain, fundamental courtesies enjoyed by countless cows, pigs, and chickens -- but not dolphins in Taiji.
Even among those who might be apathetic about the slaughter of dolphins, the manner in which it is being conducted should be offensive by any measure.
Even if this law doesn't technically cover hunting and fishing, the annual dolphin slaughter in Taiji is out of step with the spirit of the law, a cultural consideration of animal welfare. Considering that Japan already has laws in place to protect dolphins from such cruelties, any argument mounted in support of the ongoing dolphin hunt as "traditional" matters little if that tradition stands counter to Japanese law.