We all know Japan as a super modernized country which gives us many technologies! Their car brands, such as Toyota, Honda, Nissan and Lexus are worldwide sold.
Apart from the cars, Japan is also known for Nintendo and Sony, two major brands within the video gaming community. Panasonic and Canon are also known all around the world.

Two of those brands are even in the Top 20 list of brand values world wide with #9 Toyota and #20 Honda.
Thinking about Japan brings even more things to my head such as the Samurai, wasabi and Sushi but also the beautiful cherry trees.
Really Japan is a country highly technologically evolved and most people do not associate anything bad with this country.
Yet, I do! And so do many others!
We care to know about Taiji, a little Japanese village in which the drive and killing of thousands of dolphins every year happens. This event is taking place for half of the year! Entire families getting driven in the cove and then slaughtered. Video footage of this brutality shows that those animals aren't put to a quick death ("The Cove"). Calves are getting literally dumped back at the sea after having witnessed the murder of their pod. The part in the brain which handles emotions and feelings is more evolved in dolphins than humans. We can't even imagine how we would feel after having watching our family getting butchered down, so we can not understand how these highly sentimental animals suffer!
Oh yes, there is those few dolphins who survive all of this and face now an enslaved life in captivity, forced to perform tricks for us humans!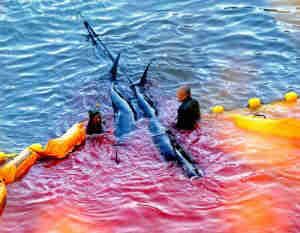 We also don't close our eyes from the fact that millions of Dollars went into the whaling fleet of the southern Ocean! Money which people donated to help the victims of the tsunami which hit the area of Fukushima!
The whaling fleet who kills the big guys (fin, humpback and minke whales) hunts every year and do not care about the ICJ rule of not to!
It takes roughly 25 minutes for a harpooned whale to have bleed out and died of exhaustion and the loss of blood.
25 minutes in which they try to swim away from the harpoon vessels!
25 minutes where they have a huge harpoon in their back, draining out all the blood!
25 minutes of terror!
So Japan isn't as awesome as most people think.
The bloody slaughter is getting hidden behind their brands, behind their technologies, and yes, sometimes even from the Japanese people themselves!
Lies upon lies!
Blood which makes the Ocean run red!
Blood which makes the Cove run red!