On a hot Friday in June, the US Fish and Wildlife Service crushed one ton of ivory in the heart of Times Square to send a message.
"We're not only crushing ivory," U.S. Interior Secretary Sally Jewell declared to a crowd of government officials, lawmakers, and wildlife advocates. "We're crushing the bloody ivory market."
On June 19, the US boldly took a stand against the poaching crisis that has elephants on the fast track to extinction. Every 15 minutes, an elephant dies to perpetuate the vicious ivory trade. By crushing one ton of ivory in New York City, we reiterated that we will not tolerate it.
Without a doubt, the event was an important, if painful, day for those who love elephants. But it is only now, in the aftermath, that the most significant work begins.
What can we learn from the Times Square ivory crush - and where do we go from here?
1. Ivory is not art.
For Elephants DC and everyone else passionate about elephant conservation, emotions ran high at the June 19 ivory crush. Individuals from around the world, including an Elephants DC board member, placed a piece of ivory on the crushing belt and walked away in tears.
Before the crush, all the ivory trinkets stood on display, lifeless, on a few tables. All were illegal ivory pieces confiscated by the US government, including during a major bust of an "antique" ivory trader operating in Philadelphia.
The ivory crushed in New York was stolen from recently poached elephants. There were endless carvings and figurines: some crude, some incredibly elaborate. A few pieces were entire giant tusks with intricate carvings etched into them. Several ivory objects appeared identical - like they were just another commodity churned out in an assembly line. Many were stained brown to appear "antique."
Under the guise of "art," the soulless pile of trinkets assembled for destruction represented the impending extinction of an entire keystone species. Instead of living long, full wild lives, the elephants who owned those tusks were cruelly cut down in their prime.
Whatever those ivory trinkets were - they were definitely not art. Art is about creation, not annihilation.
As Katie Lee, Food Network star and ambassador for the 96 Elephants campaign, told Elephants DC at the event, "It's a somber day. You look at all these piles of tusks and think about the number of elephants who have died for no reason. And I feel so sad."
"We are seeing the death instead of the life of elephants," stated Jen Samuel, president of Elephants DC. "It's a perversion."
2. The ivory we crushed is only the tiniest fraction of what's out there.
Before thousands of people, the US Fish and Wildlife destroyed more than a ton of ivory Friday. It took hours for the crushing machine's engines to pulverize it all into dust. Countless little specks of ivory swirled in the air all around us, scattering like ashes in the wind. When it was all over, police trucks pulled away giant bins filled with crushed ivory bits.
It seemed like so much. And yet, compared to the amount of illegal ivory flooding the markets each year, a ton is nothing.
One ton of ivory is roughly equivalent to about 90 elephants (or 10 kilograms per elephant), based on numbers from a report by The David Sheldrick Wildlife Trust. That's around how many elephants are slaughtered each day.
We're currently losing at least 35,000 elephants a year. In comparison to the daily destruction of living elephants on the planet, the New York ivory crush was just a tiny speck of ivory dust floating in the breeze.
"While we're sitting here at this event, about six more elephants will die. Maybe more, because they're now going after the babies as well," said Secretary of the Interior Sally Jewell in her remarks during the Times Square ivory crush.
Elephants are also losing their habitat due to unsustainable development practices sweeping Africa. Still, and ever more heartbreaking, baby elephants are routinely kidnapped from the wild in Zimbabwe for petty cash to foreign buyers.
Putting last week's historic crush into perspective only further increases the urgency of ending the ivory trade and protecting elephants both at home and abroad.
3. Ivory crushes raise awareness that elephants face extinction.
As intended, the Times Square ivory crush received great media coverage in the nation and around the world. It was fantastic publicity for the plight of elephants and the fight against the vicious wildlife trafficking industry.
As Secretary Jewell said, "We don't need trinkets, but we do need elephants."
Plus, last week's ivory crush was only one in a wave of crushes worldwide. In November 2013 the US Fish and Wildlife Service crushed 6 tons of ivory in Colorado. Since 2013 nations including Kenya, France, Hong Kong, the Republic of Gabon, the United Arab Emirates, the Democratic Republic of Congo, Thailand, China, and many others have staged public events to destroy ivory stockpiles.
It's extremely promising that the world is waking up to the reality that the ivory trade is costing us the end of an invaluable species. But will it be too late?
Sadly there are still some people who don't yet understand that crushing the ivory market is the best way to protect elephants. In reality, banning ivory has been proven to drive down consumer demand and save elephants. (We've tried flooding the market with ivory once - with disastrous consequences. Never again.)
Destroying illegal ivory seized from poachers and smugglers, as in last week's ivory crush, helps make the statement that ivory trinkets are meaningless and valueless.
"I know everyone is anxious to see the crush of all the worthless items [today]," said Joseph Martins, director of New York's Department of Environmental Conservation, during the ivory crush last Friday. "The reason they're worthless is because they're not attached to an elephant."
As long as we value elephant tusks, elephants will be in danger. As Azzedine Downes, president and CEO of the International Fund for Animal Welfare, puts it: "The ivory trade anywhere is a threat to elephants everywhere."
In order to pull elephants from the brink of extinction, we need to convince consumers that ivory only has value on elephants. The crush in Times Square - and all the others like it - helps us strip away the artificial value our society has placed on those tusks, one pile of dust at a time. The question is just whether we can turn the tide quickly enough.
4. The United States government is taking action to save elephants -but it isn't enough.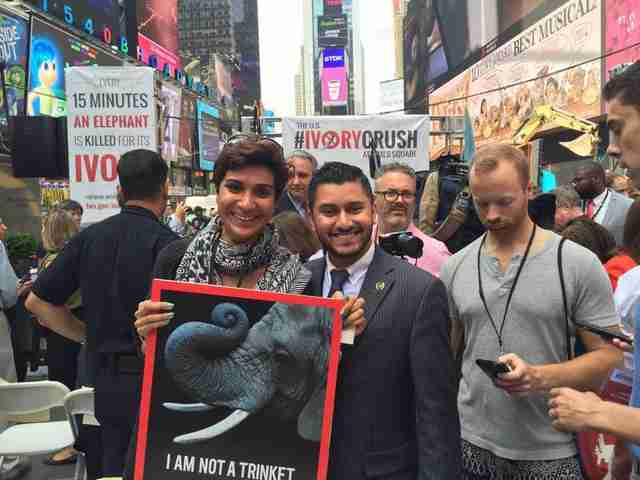 The speeches by government officials during last week's ivory crush emphasized that the illegal ivory trade is alive and well in the United States of America. Wildlife trafficking is not just a remote problem in Africa or China - the US is actually the world's second largest consumer of ivory products.
In fact, much of the ivory crushed during the event came from just one nefarious trader, Victor Gordon, who's serving a 30-month prison sentence for smuggling more than 400 pieces of elephant ivory into our country under the guise of an "antiques" business in Philadelphia. And there are still thousands of smugglers who remain unapprehended.
We are grateful that the US federal government has recognized the crisis elephants face. As US Fish and Wildlife Service Director Dan Ashe noted in his opening remarks, President Obama took critical steps to increase enforcement and reduce demand by announcing a National Strategy for Combatting Wildlife Trafficking in February 2013.
New regulations further restricting the US ivory trade are in the works. Partnerships with other nations are in the works to further tighten our anti-trafficking networks. And dialogue between the US and China on the ivory trade has finally begun.
However, as we speak, the US House of Representatives is currently threatening to freeze the budgets of several of these initiatives - essentially rendering them powerless.
Despite the resistance of some, the elephants and rhinos have the support of many. New Jersey turned the tide in 2014 by historically ending its domestic ivory and rhino commercial trades with an outright ban, the first and strongest in the nation. New York followed suit with a similar measure. Together these two, often competing, coastal East Coast states proved to the world that change is possible.
"Our message [is] spreading throughout the country to other states," said New Jersey State Senator Raymond Lesniak at a recent event. "We're sending a message throughout the world that we're doing our part, and we want you to do yours."
Given the complexities of enacting an outright ivory ban in Congress, it's more crucial than ever that individual states continue to move to stop ivory commerce locally now.
The world is watching California move forward to close deadly loopholes allowing blood ivory to hide in the open marketplace of San Francisco and Los Angeles. On June 16 the District of Columbia introduced a similar measure to combat ivory and rhino horn commerce.
The movement is sweeping the nation. But to be truly successful, we need your voice, too.
5. Elephants remain a symbol of life despite a global epidemic.
The world's most recent ivory crush in New York reminded us that there are many, many reasons to save elephants. They embody life. In contrast, the ivory trade is fueled by the death of the largest land mammals on the planet with no natural enemies - besides humans.
Not only are elephants sentient, emotional, and social creatures that deserve their place in the sun on this planet - but they're a keystone species and irreplaceable to the ecosystems they call home.
In addition, as many speakers pointed out, the illegal ivory trade funds terrorist organizations that murder humans and threaten our national security. "Many of the groups who traffick in wildlife products are trafficking in arms, in drugs, and humans," Director Ashe said. Fighting poaching is in our best interests.
Plus, elephants aren't the only species at risk. "It's not just ivory, but wild populations of rhinos, tigers, great apes" and more, Director Ashe said. "Many of the world's most beloved species could vanish in less than a generation unless we take action."
More and more, scientists are coming to believe that our planet has entered the beginning of a sixth mass extinction. We are at a turning point, but time is running out.
We rally for elephants because they're the most prominent figure in a planet-wide epidemic that's killing off species and ecosystems in the name of human greed.
The earth is weeping for elephants. Are we listening?
Let the ivory crush in Times Square galvanize us to take a stand for elephants and all species. It's for the future of our planet and our children. It's not just elephants who are at stake - it's humanity itself.
Elephants DC extends a huge thank you to the US Fish and Wildlife Service and all the government officials, lawmakers, and countless wildlife advocates who made the Times Square ivory crush a reality.
To learn more about and support our work to promote elephant welfare and end the global ivory trade, follow us on Facebook and visit our site at www.elephantsdc.org.