Groundbreaking: China Bans Ivory Imports For One Year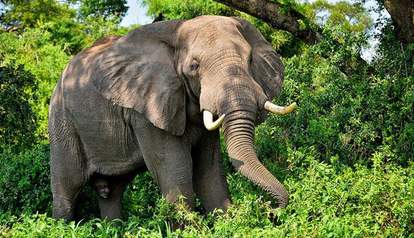 <p> <a href="https://www.flickr.com/photos/rod_waddington/15240954071/in/photolist-pdMSEc-996FJA-221Jof-cSHZUJ-6mZpr2-hRReMo-i5nXWm-6n7UM1-bHuTmt-6dJj1A-4H4DC8-6n5uGN-abnKXT-6n2sMR-2PGETV-imzi9d-qFcsFT-bDsWmR-absSz6-a1AzLw-i5nTRN-5pXo85-i5nLyJ-crVwNw-521ris-crW47m-crVvLj-6n5vXJ-crW6MW-8V3YUJ-8UZYvH-2PM1xS-hRRfks-hRRfNm-oJoKXW-absRnX-nzCzJB-i4i8j6-ibgWcq-ibgC9x-crVuDG-aw3Ubn-ahM4zK-8LLq8X-cSHZoU-8zwCCc-6n2v5R-6n1idc-5fuEG-7Ux3RA">Flickr/Rod Waddington</a> </p>
In an unexpected and welcome move, China, the world's largest consumer of elephant ivory tusks, announced Thursday that it was enacting an immediate one-year ban on ivory imports.
The ban is a step in the right direction, but the domestic ivory trade is still a major problem, Rob Brandford, U.K. director of the elephant conservation organization the David Sheldrick Wildlife Trust, told The Dodo.
"To put a stop to the killing, however, we must end all trade, not just imports," he said. "The domestic trade in ivory in China serves only to create confusion, ambiguity and doubt over the legitimacy of ivory and makes law enforcement extremely hard."
China's State Administration of Forestry posted a notice Thursday saying that it would not handle any ivory import requests for the coming year, AP reports. The moratorium does not impact trade within state lines, however. The move was ostensibly to help lessen China's contribution to the poaching epidemic that recently wiped out 100,000 African elephants in just three years.
While the international trade of ivory was banned by the Convention on International Trade in Endangered Species in 1989, the ivory trade still runs rampant in China and other countries. Last year, the country destroyed six tons of illegal ivory in a show of solidarity with conservationists, but the demand continues to climb.
Other conservationists have voiced concern that the one-year ban will only serve as a cover for the government to push for legalized international trade later on.
"China can emerge a leader in the fight against ivory trafficking by adopting a total ban on domestic trade in ivory," Shruti Suresh, a campaigner with the independent Environmental Investigation Agency, told The New York Times. "This is the policy change that could actually make a difference for elephants in Africa."