As a Japanese aquarium found out last week, hungry sharks don't play well with others, especially not in captivity. A nine-foot sand tiger shark, which hadn't eaten in weeks, tried to swallow a smaller whitetip reef shark swimming in the same tank.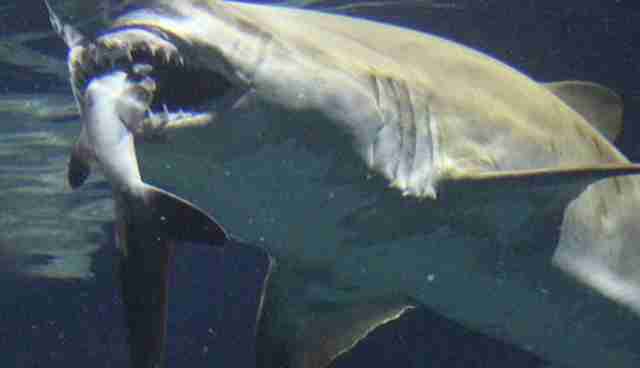 In the wild, sand tiger sharks and whitetip reef sharks don't typically interact, says George Burgess, a shark expert at the Florida Museum of Natural History. Keeping them in the same tank, he says, is akin to mixing lions and tigers.
Although sand tiger sharks may feed on smaller sharks, their chief source of food is softer, bony fish. "They normally don't attack each other in captivity," says Daniel Huber, a University of Tampa marine biologist.
Keeping captive sharks sated, then, is key. "A hungry predator," Burgess says, "will act like a hungry predator."