The iTHINK campaign – a public awareness campaign involving opinion leaders and celebrities in Thailand, Vietnam and China – aims to reduce wildlife consumption.
With support from the Critical Ecosystem Partnership Fund (CEPF) through our reinvestment in the Indo-Burma biodiversity hotspot, Freeland Foundation is working to initiate a downward trend in the consumption and sale of endangered species in Vietnam and southern China by changing public attitudes toward endangered species conservation; reducing demand for key species and their derivatives in four major cities; enhancing awareness of illegal wildlife trade in these cities, leading to increased law enforcement action; and applying lessons learned elsewhere in China and Vietnam.
In August and September, Freeland Foundation hosted public events in China to build an affinity for wildlife and increase awareness about illegal wildlife trafficking. The events also helped Freeland Foundation move closer to creating a civil society network that uses iTHINK as a platform to end endangered species consumption.
On August 10, Beijing-based NGO Nature University held the first public lecture of "Endangered Species of Wild Fauna and Flora" in cooperation with Freeland Foundation, Beijing Normal University and Don't Eat Friends, a local NGO. © Freeland/photo by Xuan YANG
Guangzhou, China, is second only to Beijing for the most licensed shops selling ivory in the country. To increase awareness about the value of elephants in the wild and reduce ivory consumption, Freeland Foundation held a public event titled "Endangered Species of Wild Fauna and Flora – The elephant that you did not know before" in Guangzhou on September 14, in cooperation with Nature University and Beijing Normal University. Several local organizations, including Visiting the Nature, Capital Kindness Volunteer Center and Green Point Welfare, attended the event and exchanged information and ideas with Freeland Foundation. © Freeland/photo by Xuan YANG
Fang Dan from Animals Asia Foundation (AAF) provided information (and images) on moon bears rescued by AAF from bear farms during another public event. Freeland Foundation is now working to reach a greater audience by creating public service announcements from key opinion leaders through iTHINK in China, some of which will be displayed at Kunming airport. © Freeland/photo by Xuan YANG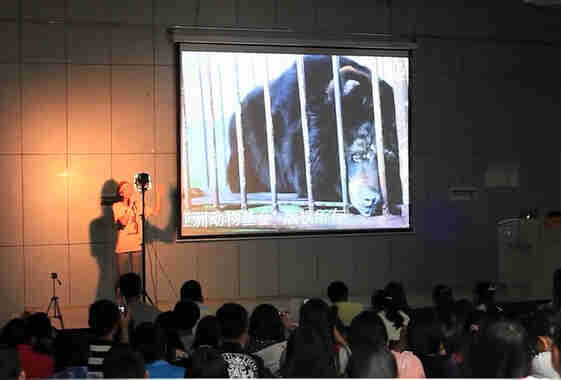 Xie Zheng, the founder of the local NGO Don't Eat Friends, spoke at four college events, providing information about the declining population of elephants in China and the capture of wild Asian black bears for farming bear bile. He urged the students not to buy bear bile products and gave an overview on the work being done by Animal Asia Foundation to save black bears and rehabilitate them at a rescue center. © Freeland/photo by Xuan YANG