Since a gruesome civil war broke out in the Central African Republic (CAR) in the spring of 2013, opportunist poachers have taken advantage of the chaos by ravaging the country's population of rare forest elephants. As The Dodo reported previously, poachers killed 26 elephants in a region of the CAR known as the "Dzanga bai" or simply "the bai," where conservation biologist Andrea Turkalo had been studying the animals for decades.
Now, Turkalo has joined an international contingent of activists working to save the bai's elephants, comprised of many of the usual suspects, like the renowned conservation agencies Wildlife Conservation Society and World Wildlife Fund. But she's also joined by a more surprising crew of conservationists, according to NPR:
Nir Kalron, a former Israeli soldier who now works for Maisha Consulting, a security company in Tel Aviv that specializes in wildlife protection, ... called Turkalo not long after the massacre and soon after she had returned to the United States. He told her he might be able to protect the bai's surviving elephants ...

After talking with Turkalo, Kalron gathered a team of former Israeli soldiers and traveled to the bai. They arrived about two weeks after the elephant killings.

"The bai was empty," he recalls, "full of carcasses and forensic evidence that we found - ammunition casings, tracks on the ground. And we didn't see a single elephant. It was quiet."
Kalron and his group of former Israeli soldiers ingratiated themselves to rebel leaders in the area, making a "gentlemen's agreement" that their surveillance team would be allowed to watch over the bai and ensure that no more elephants would be harmed. The group's military-style reconnaissance mission isn't exactly ideal -- after all, it would be better if the elephants didn't need to be protected from poachers in the first place. But, as wildlife traffickers become increasingly violent, Turkalo and others believe Kalron's army-inspired conservation might be the only good option.
It's also an option that's highly regarded by local residents. "I realized that they really care, that the Africans care - not only the officials in different wildlife services, but villagers," Omer Barak, one of Kalron's team members, told NPR. "That realization made me feel less patronizing and to not think of it as a new form of conservation colonialism."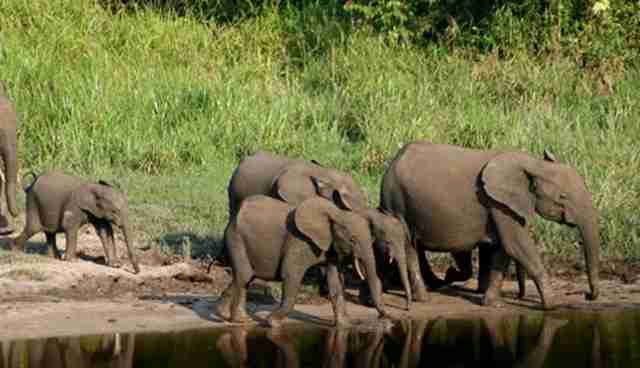 Kalron's team continues to watch over the bai, but so far, poachers have not returned.
(Photos: Andrea Turkalo/Elephant Listening Project)
The ivory trade drives a brutal campaign of international poaching that killed 22,000 elephants in 2012 alone, despite a global ban on the sale of ivory. Join us in pledging never to buy new or vintage ivory products -- which include narwhal, walrus and hippo ivory -- to help save the world's animals from poaching.
" "