Man Makes Sure Shelter Dogs Get Their Winter Walks — No Matter What
"On Saturday we went out and it was minus 40 with the windchill."
For many of us, winter in the northern Canadian city of Iqaluit doesn't exactly scream outdoor fun.
With the windchill bringing the temperatures to as low as minus 60 degrees, not even the sun hangs around for long - mustering a meek glow for just a few hours before calling it a day.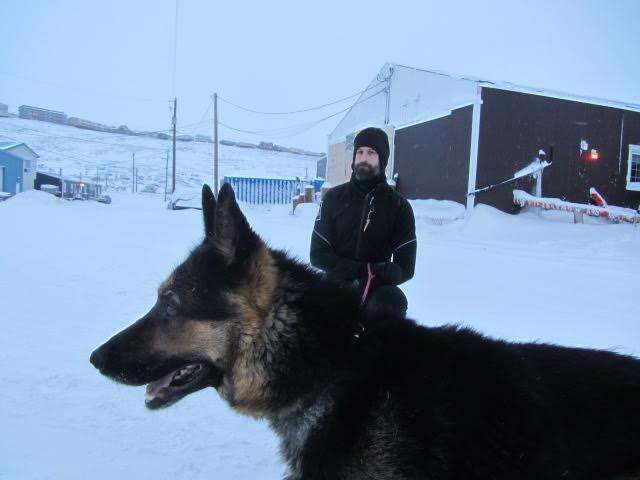 But it's just the kind of weather many of the dogs at the Iqaluit Humane Society ache for. Not your typical shelter dogs, many of them are high-energy working dogs - the kind who were born to be outside. And the kind who will always feel that any kennel is too small.
Francois Ouellette is just the kind of guy to make it happen.
"This time of year when a lot of volunteers are gone and a lot of the dogs don't get as many walks, they just love going out there and stretching their legs," Ouellette tells The Dodo.
A principal at the Francophone school, École des Trois-Soleils, Ouellette volunteers to take some of the shelter's residents for a run through the big spaces they crave.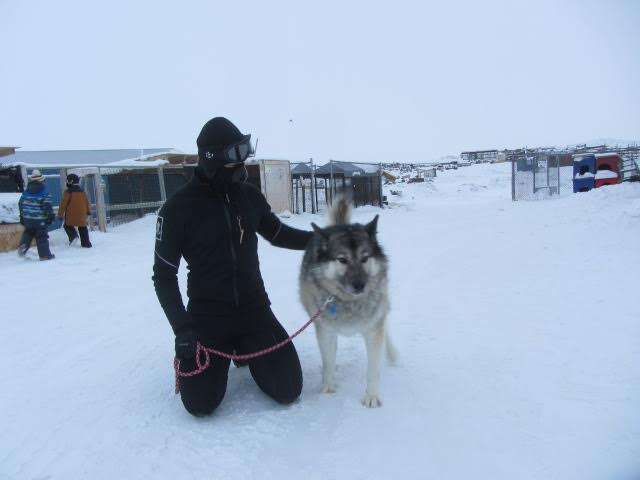 "Most of the dogs are a sled dog mix," Ouellette says. "We call them an 'Iqaluit special' - a husky mixed with something. Kind of like Spam - you know there is ham in there but you don't know what the other half is."
Ouellette, naturally, takes a little longer than the dogs to get out the door.
"I have a face mask and goggles and, basically, there is no skin exposed," he says.
Even his shoes have nails that are screwed into the bottom to help grip the frozen turf.
Because if there's one thing these dogs like to do, it's pull.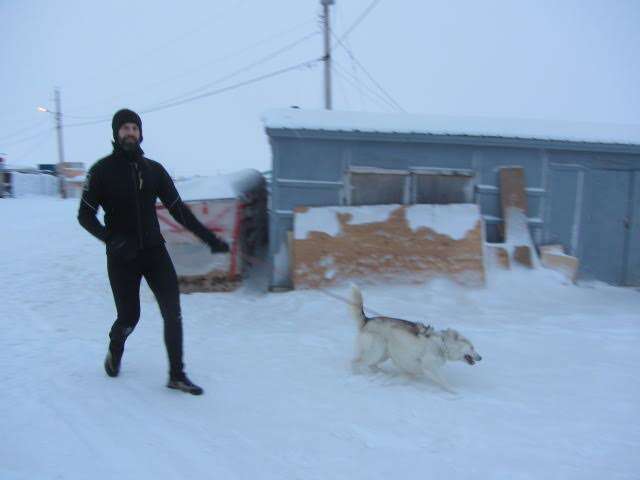 "It is actually a bicep workout at the same time, holding onto that leash so the dog doesn't take off running, so you really hold on," Ouellette says. "A lot of the dogs are skittish around humans, too."
Did he mention ... cold?
"On Saturday we went out and it was minus 40 with the windchill," Ouellette says. "That made the big difference. If there is a wind, running into it, it gets really cold."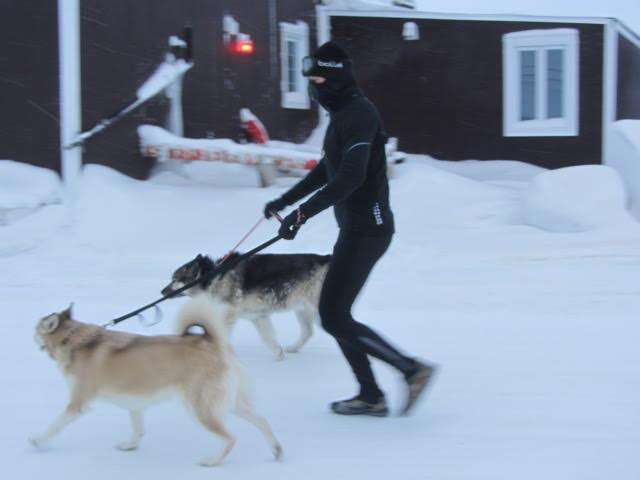 But Ouellette has the running of the dogs down to a sweet science.
"Last time I went there were four running, but I've had as many as eight to 10," he explains. "I run back and forth - if it is cold I don't want to stop. So I come in and grab one and take another one out."
As the first and only animal shelter in Nunavut, Canada's northernmost territory, the Iqaluit Humane Society is a lifeline for dogs facing unique challenges - and dim attitudes.
"The reality here is that in a lot of cases, the solution to the dog problem is a bullet in the head," Ouellette says.
The Iqaluit Humane Society operates from a space big that would normally be big enough to accommodate a dining table, couch and bed.
"We are hanging on by a thread but do what we can," its president, Janelle Kennedy, tells The Dodo.
The group gets by on donations, but also the kindness of airlines like First Air - which offers free transport of shelter dogs from Nunavut to the SPCA in Gatineau, Quebec, where they are more likely to find foster and forever families.
"If we didn't exist, maybe a few people would be able to pay for the cargo fees sometimes, they might help two or three rescues when they can," Kennedy says. "But with First Air and the shelter space and staff, we are rescuing upwards of 10 to 15 animals a week and they come from all over Nunavut."
And, of course, there's the cold-defying efforts of people like Ouellette.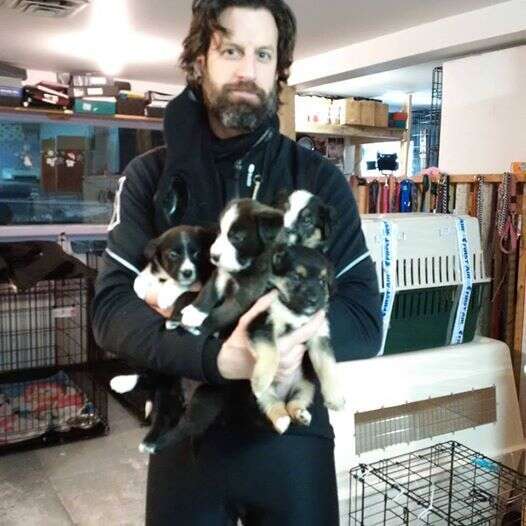 "It's great and important for socializing athletic dogs so they don't develop bad behavior," Kennedy says. "Social and interaction time is very important for dogs. In a shelter environment, that is very challenging."