Intimate Photos Capture Very Real Bond Between Homeless People And Their Pets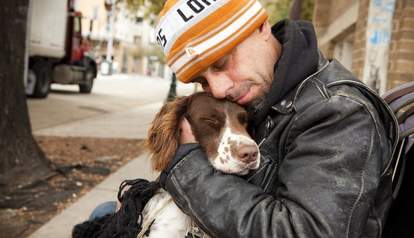 <p>Photo Credit: Norah Levine</p>
When Norah Levine, a photographer and animal-lover currently residing in Austin, TX, found an animal welfare program that inspired her, she merged her creativity and compassion to add her own voice to the conversation.
Animal Trustees of Austin runs a program called 4PAWS (For People And Animals Without Shelter), which provides free veterinary services, including vaccines and sterilizations, to pets belonging to homeless citizens of Central Texas. Says Norah, "When I learned about the program I was inspired to capture the connection between animal and owner from a positive perspective as a personal project."
(Photo credit: Norah Levine)
It is from this spark that the Lifelines project was born - an undertaking which endeavors to honor the relationships between people without shelter and their animal companions through remarkable photographs and interviews. All of the proceeds from the Lifelines project go toward the 4PAWS program.
Levine worked with Animal Trustees of Austin faculty member Gabrielle Amster to coordinate shoots and record testimonials with those who participate in the 4PAWS program. Though scheduling with subjects was not always easy, Levine says that, for the most part, the process of shooting and recording went fairly smoothly.
(Photo credit: Norah Levine)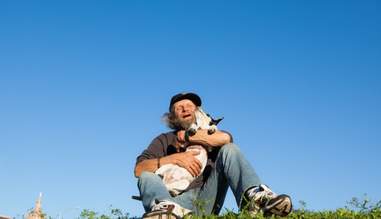 (Photo credit: Norah Levine)
Says Levine,"I wanted to capture the universal bond that exists between people and their pets and to illustrate that this shared bond is universal; it isn't based on finances or home-ownership. The vast majority of pets I encountered during this project were treated with love and respect, both physically and emotionally and the relationship was mutually beneficial and positive."
(Photo credit: Norah Levine)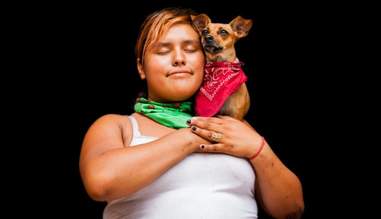 (Photo credit: Norah Levine)
Levine is determined to continue to use her work for good causes, and believes that the Lifeline project will have a continuing positive impact.
"My hope is that these images help to inspire support for programs like 4PAWS at Animal Trustees of Austin and invite people to think twice before making harsh judgments about who 'should' and 'shouldn't' have a pet."
(Photo credit: Norah Levine)
Levine worked with Animal Trustees of Austin to create a moving compilation of the photos and audio testimonials taken during the course of the project. You can watch the video below: