Following a visit to Dublin Zoo a few weeks ago, I wrote a blog about my concerns about the educational messages that zoos deliver. The blog was met with both praise from those that share my view and criticism from those that don't. As a campaigner, this comes as no surprise; I work on this issue on a daily basis and am aware that the subject of zoos is a divisive one. What I perhaps was surprised by was the extent to which those that disagreed with the blog quickly developed a very strong opinion about me and my wider beliefs. The issue of zoos and educational value quickly disappeared from discussion to be replaced with speculative assertions about how misguided the perceived beliefs of those that oppose captivity are (and by extension, how their views on captivity should be dismissed as nonsense).
A number of debates ensued which invariably ended with me (and those that share my views) being described as a "fundamentalist", "blind", "ignorant", "uneducated" or just plain "wrong". Many of the points being discussed were consolidated in a blog published a few days ago which I can only assume was written (at least in part) in direct response to my original piece as the title chosen (What anti-zoo people taught me) is a play on the title of my earlier piece (What the zoo taught me). However, the blog was not a direct response to mine but turned the argument away from the zoos themselves and towards the people that speak out against the zoo industry.
Given that the piece highlighted ten particular points, I felt it might be helpful for the debate to respond to them in turn. Obviously I can only respond on my behalf and I recognise that the opinions of the author of the original piece may be different to those of others who support the zoo industry but I would be interested to hear the views of any other "anti-zoo people" (or indeed "pro-zoo people"). If you think I am way off the mark, let me know in the comments section. If you want to add anything, let me know and I can perhaps incorporate them into this, or a future post.

The numbered points are the headings used in 'What anti-zoo people taught me' and highlight what the author calls "10 broad generalizations of anti-zoo people logic that I've seen repeated over and over on various blogs, Facebook pages, etc. across the internet".
1. All zoos are created equal.
From an animal welfare perspective, I don't believe that all zoos are created equal. I can recognise that animal welfare provision in zoos varies dramatically dependent on the establishment. However, from an ethical perspective, the argument in favour of holding animals captive in order to pursue our own agenda (however laudable that agenda might be) is problematic. It is a complex issue which, in essence, is philosophical and rooted in animal rights theory. But that it is philosophical in essence does not make it a case of emotion, imagination or dogma because our understanding of the moral status of animals is directly and inextricably linked to our treatment of them.
At one end of the scale is the view that animals are ours to do as we please with and therefore we have a right to, for example, eat their flesh to sustain ourselves or use their fur to clothe ourselves. At the other end of the scale is that animals are not ours to do as we please with and their lives should be given as much respect and consideration as that which we (as a general rule) give over to our fellow human beings. In the vast middle ground are the views that animals can be used by us if we treat them humanely; with much discussion surrounding what can be considered "humane" in reality. My views sit best with the end of the scale which demands respect for all animals and rejects their use for human gain. This is commonly referred to as the "animal rights" or "abolitionist" stance and includes opposition to the keeping of animals in zoos.
So from a welfare perspective, I do not believe that all zoos are equal. From an ethical perspective, I believe that captivity is unacceptable and, in this sense, all zoos are equal. This discussion will not go away any time soon and should be encouraged but an attempt to understand why people hold the views they do is vital to the debate. In this case, I don't believe that the animal rights (and thus "anti-zoo") position has been properly understood.
2. Sanctuary = Amazeballs! Zoos = Internment Camp
I don't support all sanctuaries but I do support the principle of sanctuaries. The reason that sanctuaries are acceptable to many "anti-zoo" people is that they care for animals that are in captivity as a result of their prior mistreatment, injury or other reason which is beyond the sanctuary's control. So, for example, a sanctuary which rescues ex-pet primates (I use this as an example as I have worked at two sanctuaries which do just that) is taking on individuals who were previously kept in poor conditions and without adequate care. The sanctuary becomes the lesser of two evils but it would be preferable that the sanctuary did not have to exist at all. In addition, and importantly, true sanctuaries do not breed animals and they offer them a home for life.
On the other hand, zoos deliberately breed animals in order that they spend a lifetime in captivity. Animals are also culled when deemed "surplus to requirements". From an animal rights perspective, zoos are perpetuating captivity of animals indefinitely whereas sanctuaries are not. It is for this reason that those that are "anti-zoo" are often "pro-sanctuary". It is recognised that some zoos simply call themselves sanctuaries in order to be associated with the more benign concept and this is problematic. It is partly as a result of this that the Global Federation of Animal Sanctuaries (GFAS) other similar accreditation bodies have been established in recent years.
3. What I feel is what the animal feels.
In my experience, those working on issues surrounding captivity (both "anti" and "pro") use scientific methods to better understand how animals cope with their captive environments. The presence of stereotypic behaviours is perhaps the most cited indicator of whether or not an animal is coping and there is ample evidence on this issue available to suggest that many animals do not cope with captivity.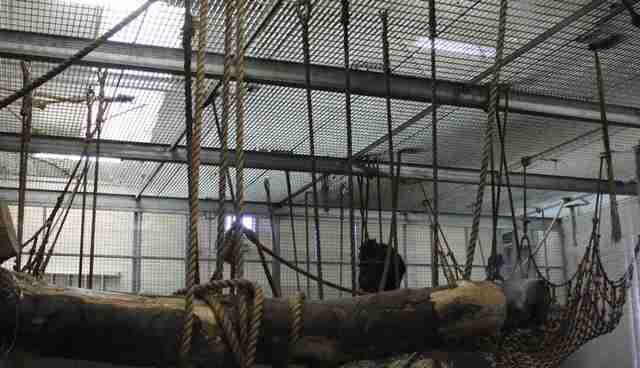 My concern for this chimp was not based on his facial expression, but on the fact he was repeatedly vomiting and re-eating his food; a sign of psychological distress.
I agree that looking at a lion and saying he looks "sad" or a monkey and saying he looks "stressed" is neither here nor there if not backed up by solid reasoning. However, if I see a lion who is persistently pacing up and down his enclosure and there is no recognisable reason for him to be doing so, I can quite reasonably assume he is undergoing some type of negative experience. If I see a monkey pacing and performing violent "head twisting" behaviours (as I described in my earlier post), I can reasonably assume that he is experiencing something akin to stress. If I see a social animal, such as a gibbon or an otter being housed alone (as I described in my previous post) then I can reasonably assume that this will impact negatively upon these animals. This is not an emotional or anthropomorphic response, but a response based on our knowledge of these animals, their needs and the way in which they respond to negative experiences. Of course, we can never put ourselves in their shoes and categorically state that we know what they are feeling but being opposed to captivity does not affect an individual's ability to learn about, understand and draw conclusions on animal behaviour.

4. Changing a picture to black and white, cropping a picture so only a single animal is shown, and taking a picture during the winter are all fair and accurate portrayals of zoos.*Bonus if you can somehow have Sarah McLachlan music in the background*
This made me laugh but I think this point could be levelled at both sides of the debate, so I am not sure that it is necessarily something which requires much further discussion. For every photo of a sad looking animal in a grey concrete enclosure, there will be hundreds (thousands?) more taken from clever angles on glorious summer days. You only need to see the photos released by many zoos to press around Valentine's Day of animals rubbing noses or curled up together or at Christmas when animals are given enrichment in the shape of presents for a photo opportunity to see that this very much works both ways.
5. Zookeepers are nothing more than glorified prison guards.
I don't know of any anti-captivity campaign which has focused on people. In fact, there is a recognition amongst those that I work closely with that zookeepers (whilst sharing different views to those of us who are opposed to captivity) generally care deeply for the animals under their care. I know from experience of looking after animals in sanctuaries (see point 2 above!) that the early mornings, backbreaking work, heart-breaking losses, sleepless nights and 100% commitment for little to no pay is not something that people do because they dislike animals. It is the institution that I am opposed to, not the individuals.
6. Zoos are irrelevant because you can learn about animals in books and from the internet
This statement plays to a number of different issues. One is the ethical argument that education is simply not an acceptable reason to hold an animal captive for his or her entire lifetime. This is particularly true when we consider that the way in which children learn about almost every other subject is from different sources (such as books, the internet etc). If we accept the argument that children somehow need to see/smell/hear an animal in order to learn about and, by extension, care about that animal, then how do we explain children's fascination with outer space or dinosaurs?
From an evidenced-based perspective, the educational value of zoos has never been proved (one way or the other). A study commissioned by the UK government and published in 2010 concluded that:
"The review of available literature reported considerable evidence of the wide range of conservation and education projects conducted by zoos. Concerns remain, however, with regard to the lack of available evidence about the effectiveness of these projects".
It is therefore admitted, even by the industry itself, that claims about educational impact cannot be substantiated.
7. It's okay to own a pet and be a hypocrite
Pet ownership is a subject which divides those who advocate for animal rights but, personally, I do not see the keeping of companion animals as conflicting with an anti-captivity approach. I care for two rescued dogs. One was a street dog and the other was subject to an unfortunate series of events (somewhat compounded by various behavioural problems) which meant he had been re-homed three times before he came to me. Most of the animal rights advocates I know support rescue of animals in need of a caring home but oppose the commercialisaton of animals (ie: breeding for sale). This runs along the same lines of the "anti-zoo" yet "pro-sanctuary" stance.
This is Barnie. He lives with me. I believe that rescuing animals in need of a caring home is important. I don't believe that breeding animals deliberately in order to hold them captive is comparable.
In addition, domestication is not something to be dismissed out of hand. Domesticated animals and wild animals are fundamentally different. One group of animals are genetically changed and adapted over generations to live alongside humans, the other isn't. This fact has obvious implications in any discussion which attempts to align keeping domesticated animals such as dogs as pets and wild animals, such as tiger, in captivity.
8. Animals in zoos would be better off if they were freed into the wild
9. Habitat destruction has halted AND fixed itself AND poachers no longer exist
These two points, I wanted to deal with together as they effectively discuss the same thing. I know of no campaign to open the zoo gates and let the animals go free. I also know of no campaign which suggests that habitat destruction and poaching are not two of the major threats facing animals in their natural habitat.
Nobody suggests that the wild is "unicorns and rainbows" or like a scene out of a Disney movie. It can be dangerous and brutal, but it can also be challenging (in the most positive sense of the word), diverse, exciting, and, importantly, it is where animals can live in the way in which they have adapted to live over millennia. Group make-up and hierarchies, social interactions, climate, habitat, diet, natural range and behaviours can all be experienced as they should be. Life can be lived as it was meant to be; and that counts for something. Of course some animals will suffer in the wild and of course animals will die in the wild, but to pretend that locking animals up and frustrating many, if not all, of their natural behaviours is somehow for their benefit and will protect them from the perils of the wild is, in my view, misguided.
One of the reasons put forward that animals cannot be released to the wild is that they have been born in captivity and thus would not have the skills to survive if released. This is, in fact, one of the arguments that I agree with. Conversely, one of the reasons that zoos exist is, it is claimed, is to be "a place to keep wild populations genetically viable on the slim chance that humans will stop being greedy and zoos will be able to one day return these animals to the wild". So on the one hand, it is accepted that many animals in zoos would be unlikely to survive release and, on the other hand, animals are kept in zoos for the eventual purpose that they should be released. Something doesn't add up.

The logical response to this argument is that zoos are therefore not the answer. If animals in zoos cannot be released then the only option must be to focus on conservation of wild habitats and tackling the issues "on the ground". This is the approach which anti-zoo campaigners generally advocate as it is firmly believed that in-situ conservation which deals with all issues (environmental, socio-economic, cultural, local and global) is the only way in which to effectively protect habitats and species. Nobody claims that this is easy, or even possible, but to suggest that zoos offer the silver bullet that will be the solution is to ignore that zoos have existed for centuries and yet environmental degradation is continuing unabated at an alarming rate.
10. To help the animals we must boycott zoos!
The suggestion under this heading was more or less that boycotting zoos takes money away from animals and therefore those opposed to zoos should, in fact, give money to them in order that they improve conditions. This is to ignore the fact that for a boycott to have such a catastrophic impact on zoos is to suggest that a boycott would be possible on an immediate, and worldwide, scale. This is not the case and any change in attitude towards zoos will inevitably be gradual.
We have seen this situation play out with circuses in the UK over the last few decades. Gradually, these businesses fell out of favour and gradually, they began to stop using animals. At present there are only two circuses in the UK that use wild animals in their shows. To my knowledge, no circuses stopped animal performances because their animals were suffering specifically due to a lack of business (ie: inability to feed them etc) but they responded to the gradual shift and planned in anticipation. I therefore see the call to boycott zoos as a way in which to ask people to think about the industry that they are supporting and make a choice to do something else. To suggest that the change would be so sudden that zoos would suffer catastrophic losses overnight is simply unrealistic.

So, in closing, I would like to thank the author of 'What anti-zoo people taught me' for sharing her views. I hope this piece goes some way to clarifying my perspective from the other side of the debate. I would be interested to hear what others think.