Innocent Puppy Used For Dog Fighting Is All Smiles At New Home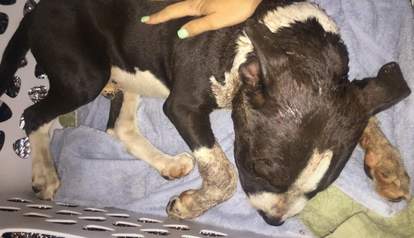 <p> Kelsey Perdue<span></span><br> </p>
Jax, a 5-month old pit mix puppy, believed to be the victim of dog fighting survived life threatening injuries from a dog attack that nearly claimed his life. Unleashed Pet Rescue of Mission, Kansas stepped up to help fund the emergency care needed to save his life.
This video documents the beautiful steps of his recovery and carries a very powerful message about the cost of animal cruelty and the horrors and inhumanity of dog fighting. As seen in the video Jax goes through an amazing transformation over the course of four weeks, two of which were spent in intensive care before being released and transferred into a foster home who shortly after adopted him.
Some of the images in the video are graphic.
Photo: Jacob Meyer
Photo: Jacob Meyer