Kitten Had A Really Rough Start, But Now He's Unstoppable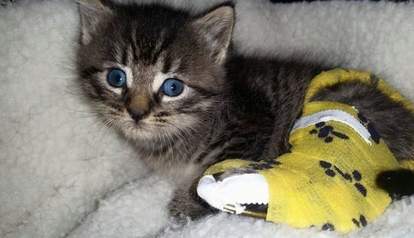 Animals In Need
Digger, as he's now known, was discoveredlast month in an old church that was being demolished in Nova Scotia. Workers there, unaware that anyone was left inside, found him pulling his little self free of the debris - injured, but insistent on staying alive.
They called Brandi Nickerson, a volunteer from the group Animals In Need, who rushed the plucky kitten to get the care he needed.
Animals In Need
"[He] has a fracture on one back leg, has skin removed from two toes on his other back leg, and has trouble using one of his front legs. This poor little fella has been through a lot today, and he's only a month old," Digger's rescuers wrote on Facebook at the time. "He's an absolute dear - was starving, in pain, and Brandi never heard a peep out of him."
The kitten was clearly willing to fight for his life, and the volunteers couldn't help but join him in that effort.
Animals In Need
The kitten was fitted with a tiny cast and bandage to help his legs heal, though given the extent of his injuries, his rescuers believed that it would take months for him to recover - a long time for a playful youngster like him to sit on the sidelines.
But determined Digger wasn't about to wait to get back to enjoying life.
Animals In Need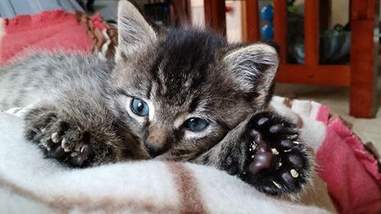 Animals In Need
Under the watchful care of volunteers, and the kindness of people who donated toward his care, Digger recovered faster than anyone ever expected. In fact, just a little over a month after he was first rescued, he was able to get his tiny cast removed.
"Digger is doing great," Animals In Need wrote online. "[He] has become a little climber loves being on top of everything and exploring."
Best of all, the group announced that the kitten, whose life had gotten to such a rocky start, would never have to face the world alone again: He'd found a forever home.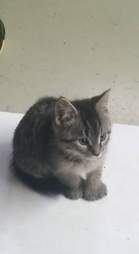 Animals In Need
While Digger's now bound for a happy life with a family who loves him, arriving to such happy endings requires more than an animal's willing spirit alone - it takes the determination of everyday folks, like those from who Animals In Need and their supporters, who work each day to give them a fighting chance.