Injured Goat Escapes Slaughterhouse, Is Given Wheels Of Fortune
<p>Woodstock Farm Animal Sanctuary</p>
In 2007, residents of Brooklyn were astounded to see a homeless young goat strolling through Prospect Park. Apparently, the little goat had escaped from a nearby slaughterhouse. Luckily for the baby goat (later named "Albie"), the Brooklyn branch of Animal Care and Control reached out to Woodstock Farm Animal Sanctuary, and Albie was transported to his new life on the farm.
However, Albie's story didn't end there. The little goat was severely malnourished upon his arrival at Woodstock Farm, and had a bad case of the cutaneous disease Orf, which causes painful lesions around the animal's nose and mouth. Though the sores eventually healed, Albie was still in pain. Sanctuary workers suspected that Albie had been hogtied at the slaughterhouse, and the lack of circulation to his legs had caused a portion of one of his hooves to fall off. This made walking very painful for Albie, as there was sensitive tissue below the hoof that was exposed.
It soon became clear that Albie's leg was not going to heal properly. "After many months of treatment including surgery, I was left with no choice but to have his leg amputated," says Woodstock's executive director Jenny Brown in a press release. "It wasn't a decision we took lightly as I myself am an amputee, having lost my leg below the knee due to bone cancer as a child."
(Woodstock Farm Animal Sanctuary)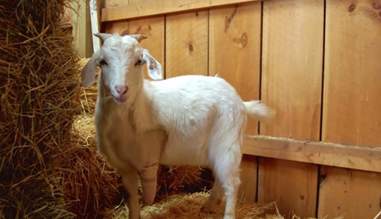 Jenny feels that her battle with cancer was responsible for her deep empathy towards animals, which led her to found the sanctuary. "Having an illness like that as a child and being so close to death made me look at life differently – this included embracing the other species who inhabit the earth with us."
Prosthetist Erik Thompkins worked with Albie for months to get him fitted for a prosthetic leg which would enable him to live and walk more freely. Though the prosthetic legs did enable Albie to have fun frolicking in the barnyard, the little goat continued to grow rapidly, and no matter what the sanctuary tried, none of the prosthetics would stay on for very long. "We tried harnesses, straps, different liners and just about everything you can think of to keep his leg on but alas, it would come off within minutes of walking," the sanctuary writes on their website.
(Woodstock Farm Animal Sanctuary)
Even a heavy-duty harness couldn't withstand the movement of Albie's body.
(Woodstock Farm Animal Sanctuary)
After Albie had gone through SIX different prosthetics, the sanctuary changed tactics with an ingenious idea: wheels.
Albie has been outfitted with a lovely new set of wheels, courtesy of Eddie's Wheels, and he seems to have really taken to the change in mode of transportation.
The farm went to such great lengths to help Albie because, as Jenny says, "Woodstock Farm Animal Sanctuary sees and cares for each animal as an individual."
You can watch the full video of Albie's transformative journey here: