Injured Carriage Horse Forced To Work Just Minutes After Violent Accident In NYC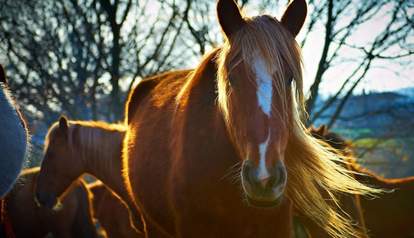 A New York carriage horse got into an accident yesterday after he was allegedly sideswiped by a city bus Wednesday night -- a perfect example of the type of unsafe work conditions that animal advocates have been rallying against. The accident happened on Central Park South across from the Plaza Hotel. The horse, spooked by the bus, bucked and started to run while the carriage went over the curb and toppled the animal to the ground. After the horse was returned upright, sources say, he continued to work.
A horrified tourist witnessed -- and documented the incident. They provided this statement to PETA:
I was in town visiting from Oklahoma when I witnessed one of the worst animal cruelty incidents I have seen in a long time. A bus drove very close to a horse and spooked it (rightfully so, I was also scared of how close the busses were to us). The horse bucked and started to run when its carriage went off the curb and pinned the animal to the ground. (See picture) The men (if that's what we want to call them) proceeded to hold the horse down and save their carriage (yes carriage, not horse) from further damage. One man suggested cutting the carriage and the other said no because it would come out of his pocket (he clearly had one concern, of which the horse was not). To top off the whole event, the men proceed to strap the horse back into harnesses and continue to work even though he was clearly limping and hurt!!!
The incident is yet another reason to fight for a ban on horse carriages in the city, which Mayor de Blasio has said that will happen by the end of the year.
See footage of the incident below: