Indonesia Issues First-Ever Punishment To Save Country's Manta Rays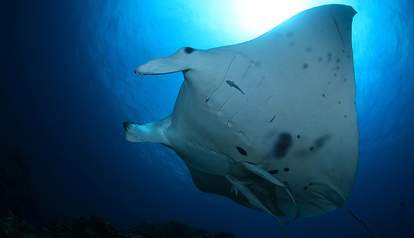 <p> <a class="checked-link" href="http://www.flickr.com/photos/eugenelimphotography/14212384450/in/photolist-nDUbKd-6HobXC-f7QCvw-nKn5bF-8FDQ2R-dCGxsN-8A3T9k-3oz82A-8JLxzY-3dNmR-6zYASu-gTqg1U-gZxH55-af21ea-9VYgXP-f39mw2-8A6YrS-aqgKnP-gZyF6H-4piPTM-fBLqYo-8arJk8-bke8vo-3oz82d-5kQxc5-5NkFuH-nKWo6C-6n9Vn1-bydjE7-6fiqxE-iSi3qq-48JRMW-6kvtGx-6Y5zh3-fKcfU1-4emPWu-BDVFY-8FH2WQ-6KZPKi-abctZp-Jm4Bh-bs8cMa-bs8cD8-dcueCL-abcu2v-9Av9qh-fNCNji-akGnzT-9N5MHR-">Flickr/Eugene Lim</a><span></span> </p>
The sentence is the first action taken after the country announced its much-needed ban on manta ray fishing and exporting last year, creating the world's largest manta ray sanctuary.
While manta gill plates are valuable on the black market in East Asia for their so-called healing qualities, they're even more valuable in the wild - alive. Not only do these gentle giants play an important role in the livelihood of other animals, acting as moving sanctuaries for parasites and suckerfish, but they're also stunning to look at.
Perhaps not surprisingly, manta ray tourism adds $15 million annually to Indonesia's economy, and totals $140 million worldwide.
While Indonesia's actions are certainly commendable, significant damage has already been done: Both species of manta rays - oceanic rays and reef rays - are listed as vulnerable on the IUCN Red List of Threatened Species. But with Indonesian officials finally cracking down on traders, conservationists are hopeful that these massive rays will thrive once again.