India Plans To Round Up Stray Dogs… And Give Them All Jobs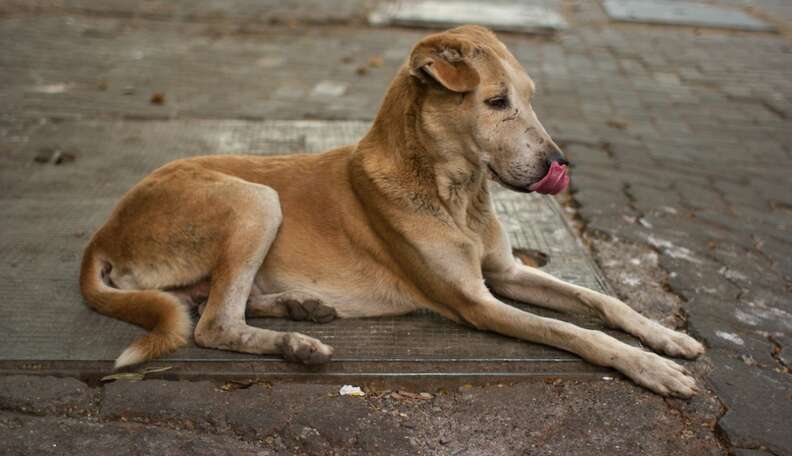 For the numerous abandoned dogs roaming through the streets of India's capital city, their days of wandering around without purpose or human companionship will soon be behind them. In an effort to ease the city's stray pet population, officials in New Delhi have devised a plan to round up those "unwanted" animals and put them to good use -- with public jobs.
New Delhi's civic body's chairman Jalaj Shrivastava tells The Hindustan Times that 40 officers have been dispatched to safely collect and find homes for some 700 street dogs. The former strays, many of which are malnourished, will be fed and given veterinary evaluations before undergoing training as service animals.
Most of the dogs will be paired with handlers from the city's new "May I Help You?" security force, to serve as guard dogs ensuring public safety throughout the sprawling city.
"Our trucks pick up hundreds of dogs every day only to leave them back on the streets. We thought an adoption programme will help us provide security to people and also reduce the dog menace," says Shrivastava.
"We do not expect street dogs to perform high-end security activities like the Delhi Police's trained dogs do. The idea, however, is to control them so that instead of running after litter on streets, they can be a friendly guide to market users."
Animal rights campaigners, like Radha Unnikrishnan, welcome the idea as one that could be a win-win for the city's animals and human inhabitants:
"This will engage the street dogs with society and also benefit people."
[rebelmouse-campaign #NewDelhiDogs title="Spread the word: Applaud New Delhi for giving its stray dogs a second chance." theme="sidebar" total="supporters have added their voice." cta="Share Now" pastCta="Shared" sendButton="Share" why="Thanks for sharing! You can post more on The Dodo about why this issue matters to you." addPost="Post Now!" shareText="New Delhi is giving stray dogs a second chance at life {{link}} #NewDelhiDogs"]