World's Cutest Package Thief Is Far Too Adorable To Be Angry About
He seems so pleased with himself ❤
As more and more people opt for the convenience of having things delivered to their homes, package theft is sadly on the rise. But the perpetrator behind this particular case of "porch piracy" is much more charming than most.
Last week, Lori Metcalf Sanders had a box of homemade snacks dropped off in front of her house by a neighbor. However, by the time Sanders went to collect the package, only a greeting card placed along with it remained.
A review of Sanders' security camera confirmed her neighbor's kind delivery: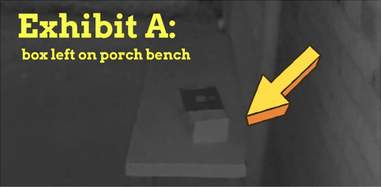 Lori Metcalf Sanders
And with that, the mystery began to unravel.
"Well, unfortunately we have fallen victim to having a package stolen off the porch," Sanders wrote in a post online. "But thanks to my security cameras, I got it all on tape!"
So, who was the ne'er-do-well responsible for the theft?
This guy: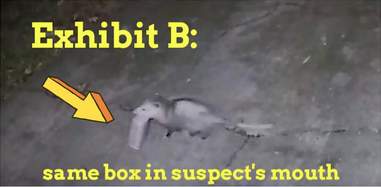 Lori Metcalf Sanders
Turns out, Sanders' package had been pilfered by an opportunistic little opossum — but this was no hurried dash-and-grab operation.
Video of the incident shows the little guy casually making off with his tasty haul, an air of pure delight perceptible in his cheery, springy steps.
It was actually quite adorable!
Seeing how pleased the stolen treats made the opossum, Sanders didn't have the heart to get angry.
"I guess this little guy needed my neighbor's yummy homemade treats more than I did," she wrote. And the neighbor who gifted the treats agreed.
"That is so funny. I will get you some more [treats]," the neighbor wrote to Sanders, adding about the furry thief: "At least he will be happy."