Beer Can On Side Of Road Had Someone Strange Stuck Inside It
"She was really mad."
Whoever tossed an empty Bud Light can onto the side of a road in Florida probably had no idea it would be at the center of some very dramatic moments.
Just the other day, Rosa Fond, president of an animal rescue organization called Humans and Animals United (HAU), was on her way home from an animal shelter, where she'd saved two dogs from being put down.
She might have thought her good deeds involving animals were done for the day — but she was wrong.
Rosa Fond
Fond was driving along when she spotted the metallic blue can with something slithery and dark coming out of it.
It was a black racer snake with her head lodged in the opening of the empty can. And she was moving.
"The poor thing was trying to get out of the road," Fond told The Dodo. Fond knew she couldn't leave this stuck snake behind.
Fond quickly pulled over, leaving the car doors open and her hazard lights flashing.
Rosa Fond
As she would soon realize, convincing the snake to wriggle out of the can would not be easy.
To make matters more complicated, Fond had attracted the attention of some nearby dogs playing in a yard, whom she quickly told to stay back. 
"You're OK," she then reassured the snake. "I'm not gonna hurt you."
Then, to herself, she reflected: "I can't believe I'm doing this."
Jittery to the point of laughter, Fond started by trying to pull the can gently off of the snake's head. This did not work.
Then she had to find a stick to help nudge the snake out. This continued to be difficult. The snake was getting more and more agitated. She even wrapped herself around Fond's arm — twice.
Fond, scared of angering the snake further, tried reasoning with her. "If you can go in, you can go out," she said.
Then she tried words of encouragement. "You can do it!" she said. "I know sweetheart, I know."
Finally, success.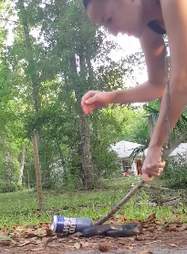 Rosa Fond
Fond knew that it was important to give the snake (and herself) some time to cool down from the encounter.
"She was really mad."
Fond then went back and swiped the can, which she brought home as a souvenir of a successful rescue (and so that no other wild animals could get any ideas about trying to go inside it).
Rosa Fond
Between the snake and the two dogs she'd just pulled from the shelter, Fond saved three lives that day. But this didn't come as too much of a surprise: People who love helping animals know that the work is never done. 
​​"How does a snake get in so much trouble?!" Fond reflected.