Chloe was adopted into her family from a big public shelter when she was just 4 weeks old. She was very sick and fragile when she first arrived in her new home, and her mom spent a lot of time nursing her back to health. Before long, Chloe blossomed into a friendly, lovable little beagle mix who loves all living creatures — especially toads.
After all Chloe went through so early on in her life, she seems to have a special appreciation for life and a love for others, and as soon as she discovered all the toads living in her backyard, she was absolutely mesmerized. Her three rescue dog siblings aren't as fascinated by the toads, but Chloe could watch them for hours and spends time with them whenever she gets the chance.
"She loves watching them swim and hop," Shelby Pittsley, Chloe's mom, told The Dodo. "She knows not to stomp on them or nibble them; she just enjoys watching them. Sometimes she casually walks on the side of them and follows them wherever they hop to. Every night at 9:30 exactly, little Chloe can be found scratching at our back door hoping to play with some toads. On nights when there are no toads to be found, Chloe becomes depressed, sulking in the middle of the yard."
There are two pools in the backyard for the family's four dogs to play in, and recently, Pittsley noticed that the toads happen to love the pools as well. Since the toads were spending so much time in the pools, Pittsley created a "toad hotel" specifically for them.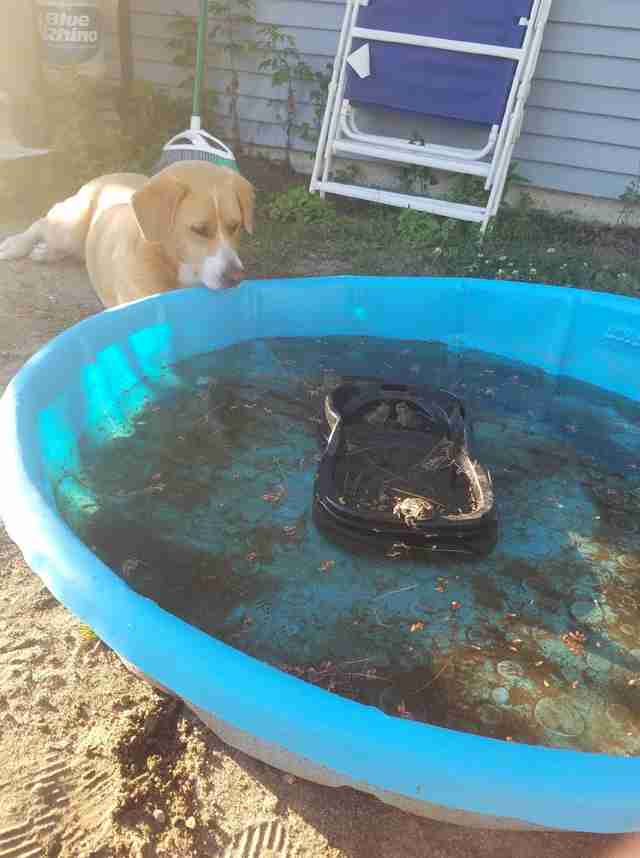 Pittsley took the pool that the toads seemed to love the most and began constructing a floor plan, trying to take into account what she thought the toads of her yard would consider their "must-haves" for a new home.
"They needed easy access in and out of the pool, water to swim in, dirt to hide in, and plants for shade," Pittsley said. "I also made dirt mounds which extended over the rim of the pool, so the toads could hop in and out at any time."
As soon as it was finished, Pittsley put the new "toad-tel" out for all to enjoy (in a spot under some bushes where birds couldn't bother them), and on the opening night, 12 toads came and hung out in it.
Now, there are toads coming and going from the pool hotel all the time. Not only do the toads love it, but Chloe is a huge fan of the toad hotel as well.
"To this day you can find the toads resting at the toad-tel," Pittsley said. "They have really formed their own family."