Woman Finds An Incredible Bug Who's Almost Too Beautiful To Be Real
"I was amazed."
The other day, Margaret Neville was strolling through the garden on her farm in South Africa when something remarkable caught her eye.
There, on a branch in her lavender bush, was an insect unlike any she'd seen before: "I was amazed at first sight," Neville told The Dodo.
And it's easy to see why.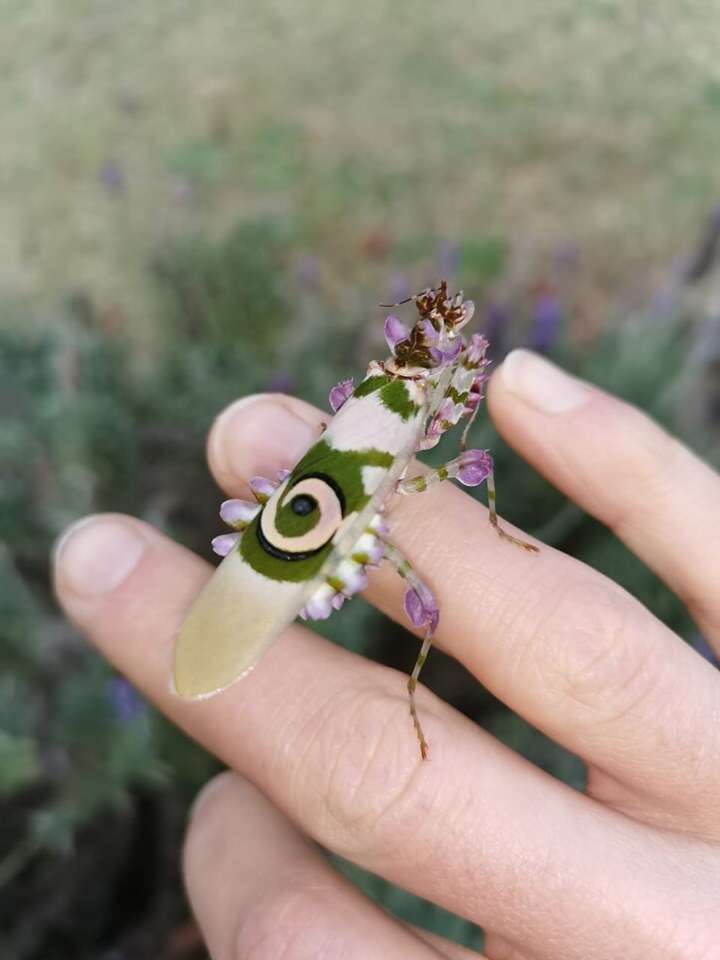 The beautiful bug almost looked like a delicate glass sculpture. Her wings of white and green were accentuated with an elegant swirl, while the rest of her body was adorned with tiny, purple flower-like structures.
Neville shared the photo with her friend, Kerri Martinaglia. She was equally impressed.
"When I saw her, I thought she was an exquisite work of art," Martinaglia told The Dodo.
Neville and Martinaglia came to learn that the insect she'd found was aptly called a "Flower Mantis," a type of praying mantis perfectly suited to camouflaging themselves in floral settings.
And thanks to that trick, the mantis Neville happened upon was clearly thriving. Before placing her back in the lavender bush, Neville gave her a name: Miss Frilly Pants.
Here's video of Miss Frilly Pants in action:
"She has spent the entire month of September living on my lavender," Neville said. "She is still there now."
After Martinaglia shared photos of her online, the remarkable mantis has earned plenty of admirers from people stunned to learn such an animal is real. But not all of her new fans are human.
Recently, Neville spotted Miss Frilly in the company of a suitor:
Though mantis relationships are notoriously short-lived (as are, in some cases, the males involved in them), with any luck, this one will result in many more Miss Frillys adding their beauty to the world.
And the prospect of that alone is enough to be grateful for:
"What a blessing," Neville said.