Woman Can't Believe Who She Found Waiting For Her Outside
"Oh my God, oh my God, this is not real."
Andrea Dick was in the midst of some yard work one afternoon, sweeping leaves off the deck of her South Carolina home. She was just finishing up and had sat down outside with some coffee to take a quick break — when she suddenly noticed she wasn't alone.
"When I first saw them, I said, 'Oh my GOD, oh my GOD, this is not real,' but quickly realized it was real," Dick told The Dodo.
There, lounging about in the middle of the deck, were six very large snakes.
Dick had seen snakes around her yard before, but never that many all together in a group. They were piled on top of each other, and Dick's first, knee-jerk reaction was to throw something near them in order to try and scare them off. It worked a little, as a few quickly slithered away, but most of them were unfazed. Since she wasn't quite sure if anyone would believe her crazy tale, Dick snapped a few pictures of the snake party happening on her deck so that she would have photographic proof.
"I thought, 'I better get a picture because everyone would think I was just exaggerating the story if not,'" Dick said.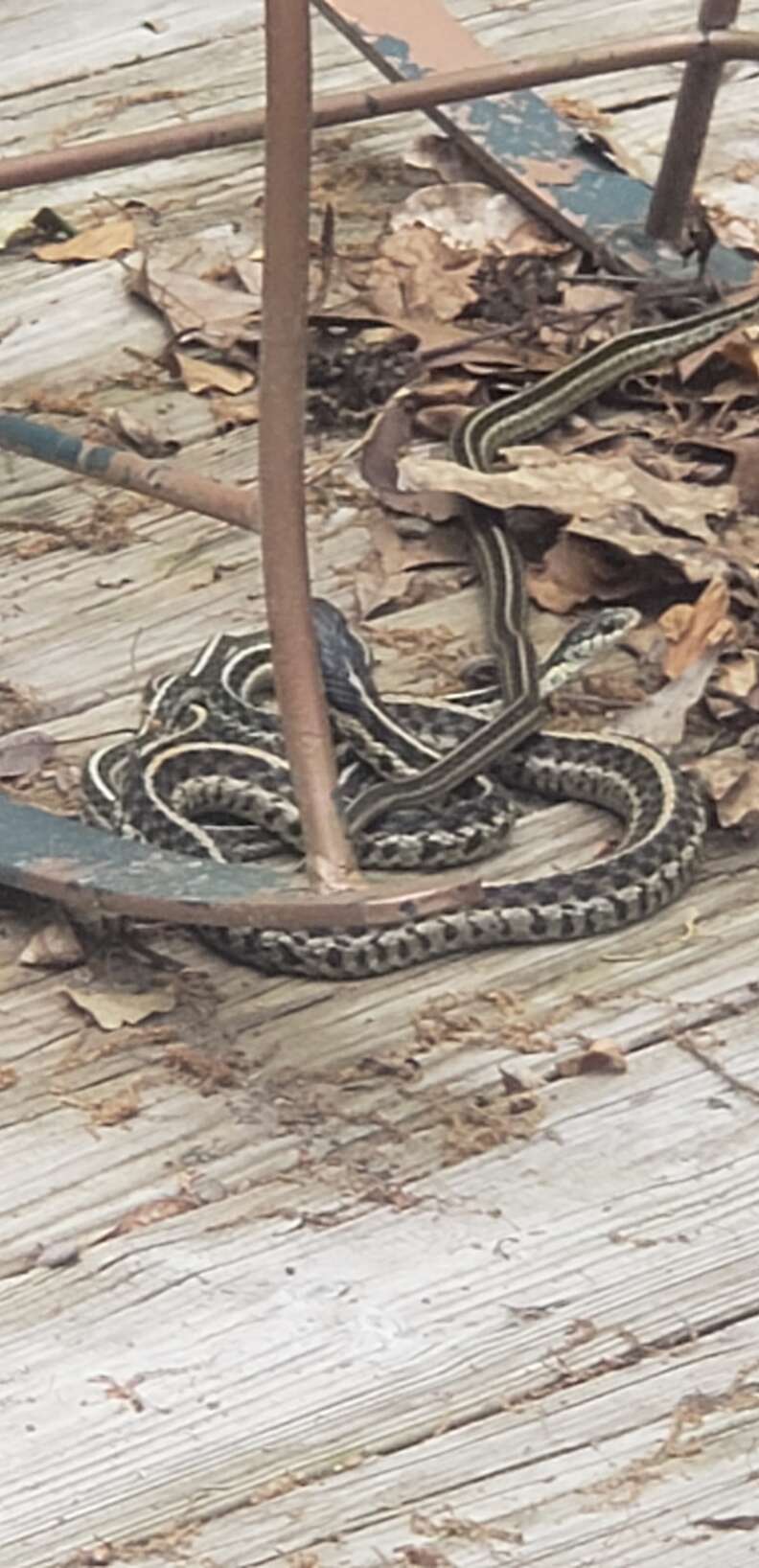 After snapping the photos, Dick quickly ran away from the snake party that she never agreed to host. She later posted the photos online, and it wasn't long before they went viral — and it seemed that most people had very similar feelings on the impromptu snake gathering.
"I am NEVER GOING OUTSIDE AGAIN," and "My house would have a For Sale sign in front by now," were two of the comments that Dick's post produced, but many other people commented to reassure her that the snakes were completely harmless and actually great to have around.
If you encounter a nonvenomous snake in your own backyard, and they're not bothering anyone or hanging out where they're not supposed to be, it's best to just leave them alone. If your fear of snakes is intense and you'd like to avoid the possibility of families of them moving into your yard, you can make your property less desirable by making sure there are no places a snake might want to hide, such as piles of rocks, wood, or other debris; tall grass and undergrowth; cracks around concrete porches and sidewalks; or storage sheds with space under the floor.
While Dick is OK with having a few snakes around her yard here and there, she's hoping they'll take the hint and will refrain from throwing any more parties on her deck — at least, not while she's around.
"I do a lot of photography, a lot of animals and landscapes, and I have to laugh that out of all the work I've done, this one has gone viral," Dick said.